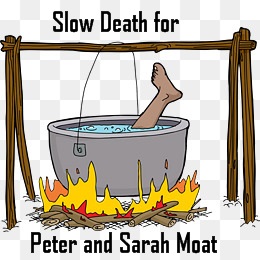 Fast Pensions, run by Peter and Sara Moat, is finally to be wound up.  There will be a hearing at the High Court in Manchester on 30th May 2018.  The winding-up petition also includes the 15 pension schemes run by the Moats, FP Scheme Trustees and four loan companies.
This follows a special measure by the Insolvency Service at a hearing on 29th March. The Official Receiver is the interim liquidator – meaning that it is responsible for investigating the affairs of the companies – including third party or trust monies.  The OR is also tasked with protecting whatever (if anything) is left of the schemes' assets.
Most of these 15 schemes involved some form of pension liberation operated through the Moats' loan companies: Blu Debt Management, Blu Financial Services, Blu Personal Finance, and Umbrella Loans.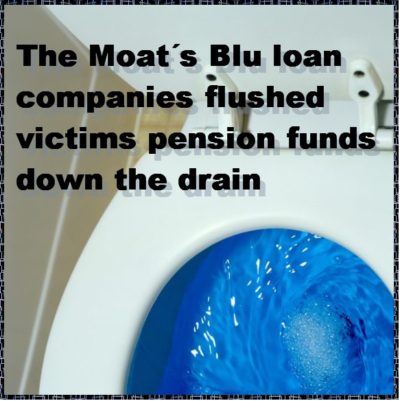 For a man who can't spell the word "Blue" (I wonder how he spells green?  Probably with a "d" at the end), Peter Moat has been very successful with his series of scams and had amassed a fortune large enough to purchase a magnificent house in Javea on the Costa Blanca.  He has now sold the house and hopefully has paid back some of the many people in the area to whom he owes money.
My question, however, is why it has taken the Insolvency Service so long?  There have been around 20 damning Pensions Ombudsman's determinations which severely criticised Fast Pensions for maladministration.  The POS has ordered Fast Pensions to pay benefits and compensation – but this has mostly been ignored.  Many victims have reported the Moats to Action Fraud, as well as the Serious Fraud Office, and sent reports to the Pensions Regulator.  But the Moats have been left at the helm for several years – long after action should have been taken to protect the victims' interests.
It is very important that members of the below Fast pension schemes send an email to:
giving their name, contact details, name of scheme, transfer date and amount of transfer – as well as any "loans".
Broughton Retirement Plan
DM1 Retirement Plan
Elphinstone Retirement Plan
EP1 Retirement Plan
Fleming Retirement Plan
FP1 Retirement Plan
FP2 Retirement Plan
FP3 Retirement Plan
Galileo Retirement Plan
Golden Arrow Retirement Plan
Leafield Retirement Plan
Springdale Retirement Plan
Talisman Retirement Plan
Templar Retirement Plan
VRSEB Retirement Plan
The problem is now going to be: how long is the investigation/unscrambling process going to take?  The Insolvency Service sat on the Capita Oak scheme for a couple of years after winding up Imperial Trustees – refusing to appoint an insolvency practitioner (even though we had pressed them to use Grant Thornton).  Eventually, the IS appointed Dalriada Trustees as independent trustee in early 2017.  This was four years after the IS had started investigating Capita Oak.
This snail approach leaves distressed victims in a terrible state of limbo – not knowing whether they have lost part of all of their pension fund.  This unnecessary delay is totally unacceptable – as is the repeated failure to prosecute scammers like the Moats.  I sincerely hope that there will now be swift, decisive and effective action to ensure a positive outcome for the victims and appropriate justice for the Moats.  The last thing the victims of Fast Pensions need is for this already late investigation to die a slow death.
**************************************************************
As always, Pension Life would like to remind you that if you are planning to transfer any pension funds, make sure that you are transferring into a legitimate scheme. To find out how to avoid being scammed, please see our blog: