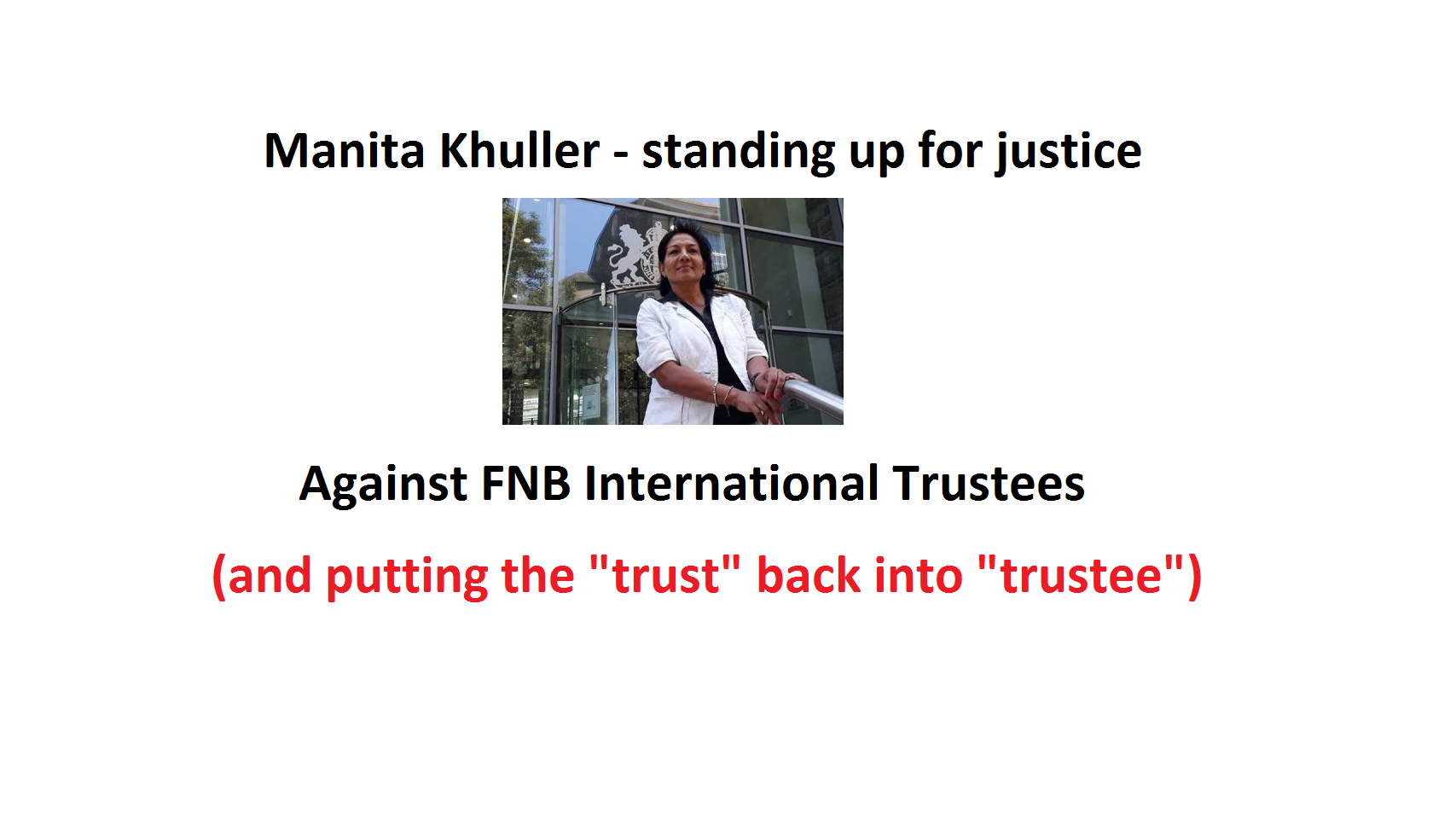 FNB International Trustees Guernsey has been caught facilitating financial crime.  With their pants firmly around their ankles, they are now trying to "defend" their actions using law firm Carey Olsen and are threatening the victim of this crime with adverse costs.  And this is what we always find so hard to comprehend: a trustee firm has been caught clearly acting negligently and complicit in a scam, and yet they are now attacking their own member for exposing the trustee's negligence and pursuing the victim for damages.  Let us hope we can trust in the judge to ensure FNB International acknowledges the difference between right and wrong: the firm took business from unregulated scammers and without question that was wrong.
We must also bear in mind that there is a regulator in Guernsey, and if he is sober and awake, we might even mention this matter to him and see if he is interested in doing a wee bit of regulating.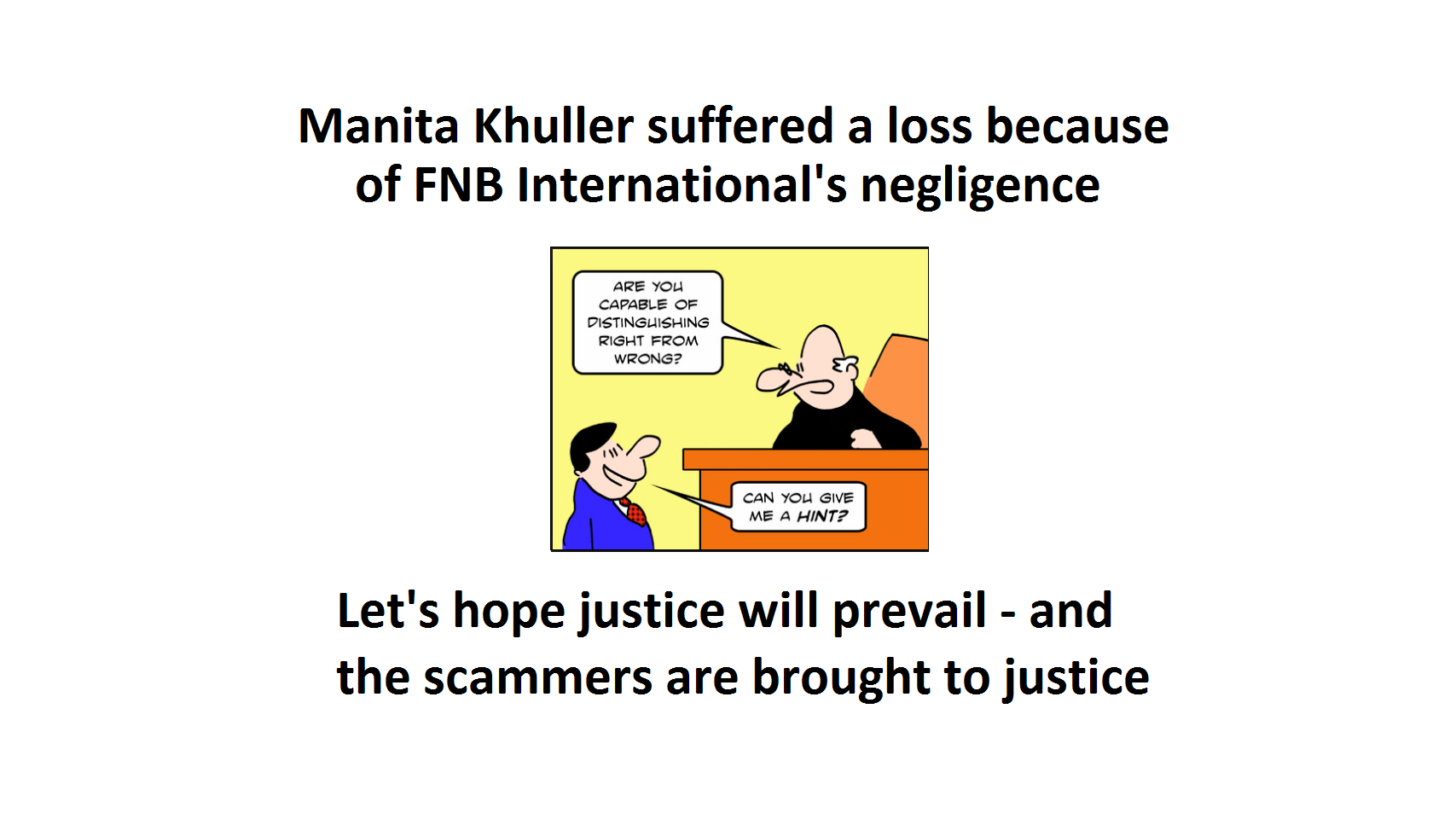 And thus it always is: the perpetrators of financial scams fight back hard against their victims with fancy, overpaid lawyers (in fact, one pension scam victim calls them "bloodsuckers").  In my view, these lawyers are just as bad as their guilty clients.  Any self-respecting lawyer ought to refuse to represent those who facilitate scams which ruin innocent victims.  And any self-respecting judge should see through such obfuscation tactics in court.
In a nutshell, FNB International Trustees (Guernsey – one of the World's worst jurisdictions for accepting dodgy business from unlicensed scammers) permitted, and even encouraged, irresponsible investments which only served to earn the scammers commissions at the expense of the investor/member.
The victim, Manita Khuller, had started with a final salary pension of £331,000.  In 2011, while living in Thailand, she was advised to transfer the pension to a QROPS by unregulated scammers – Professional Portfolio International Ltd (PPI).  Her adviser was Gary Bradford and he was operating illegally in Thailand and is now under criminal investigation by the Economic Crime Division of the SEC in Thailand.  Bradford and his accomplice Eric Jordan could each face up to five years in jail.
The transfer of Ms Khuller's valuable Unilever final salary scheme was accepted by Guernsey-based FNB International Trustees.  The firm claims to have "over 40 years pedigree in the provision of fiduciary services, with the expertise to meet your every need".  So, this so-called pedigree and expertise ought to have started with:
Bearing in mind our aim is to meet your every need, is your adviser regulated?  (Because if he isn't, we won't accept the transfer or any investment instructions).
FNB either established that PPI was not regulated – and didn't care, accepting the business anyway – or they didn't bother to check in the first place.  Whichever way round it was, FNB was clearly negligent.  The firm should have checked on PPI's regulation, and when it discovered that FNB was unregulated, it should have refused the transfer and insisted it would only accept the transfer if Ms Khuller was represented by a regulated adviser.
FNB International Trustees then accepted investment instructions from unregulated PPI to purchase a Skandia insurance bond.  These so-called "single-premium bonds" serve no purpose other than to pay the scammers high commissions; tie the victim into an early-exit-penalty period of between five and ten years; and cause a serious drag on the fund with the crippling quarterly "management" charges.  These bond providers never do any actual "managing", and these charges are merely their way of clawing back the commission paid to the scammers.
It is now widely accepted that such insurance bonds should never be used for pensions: a pension is a wrapper – you don't need or want a second, unnecessary wrapper.  Plus, it makes no sense to tie a pension saver into any arrangement for any length of time, since all members have a right to a transfer any time they want.  In fact, in Spain, the Supreme Court has ruled such insurance bonds illegal and invalid if used for the purposes of holding single-premium investments – and we all hope this policy will be adopted across Europe and beyond.
FNB International Trustees then allowed Ms Khuller's entire fund to be invested in three UCIS funds:
50% LM (Australian Property Fund)
25% Mansion Student Accommodation
25% Prestige Asset Management (Agricultural Finance)
FNB accepted investment dealing instructions from the unlicensed PPI scammers, and instead of rejecting these clearly irresponsible and inappropriate investments, FNB went ahead and used Ms Khuller's pension money to purchase these three hopeless, high-risk, illiquid, speculative and entirely unsuitable funds.
Let us be clear: FNB is not any old dodgy trustee in a corrupt jurisdiction where the regulator, ombudsman and financial crime unit all play golf and quaff champagne with the perpetrators of financial crime.  The firm holds itself out to be a responsible, professional and competent pension trustee.  The so-called "key" people have, between them, many years of purported experience in financial services, trusts, banking and investments.
And yet this firm allowed Ms Khuller's life savings to be invested in just three high-risk UCIS funds – inside a pointless insurance bond – all at the behest of an unregulated scammer – now under criminal investigation by the SEC in Thailand.
The rest is history: the LM and Mansion funds went "pop" (as many UCIS funds do).  Ms Khuller lost £170k (at least).  Obviously, she now wants out of the unnecessary insurance bond, and as far away as possible from the  pension trustee, FNB International who so badly betrayed her trust and neglected their own fiduciary duties.
So, Ms Khuller – quite rightly – took FNB International Trustees to court in Guernsey.  She represented herself in court – something that takes guts and conviction – armed only with an expert report on FNB's failures.  FNB tried to wriggle out of taking responsibility for the consequences of their negligence by using Carey Olsen Solicitors – who tried to claim that some of the information within the expert report went "way beyond the remit of the action" and was not relevant to the case. They said that "any expert report should be limited to mathematical quantification of loss".
I am pleased that Carey Olsen acknowledges the importance of quantifying Ms Khuller's loss.  So, I have done the calculation for them:
Original transfer value = £331,000
Lack of reasonable growth over seven years @ 4% a year = £121,996
Reasonable expectation of today's value of fund (had the trustee done it's job properly) = £435,573
Loss = £435,573 – FNB's transfer value
Let us say, for simplicity's and argument's sake, that Ms Khuller's transfer out value is half what it was when she started – i.e. £165,500.  Then the loss is £270,073.  See?  Simples.  Who needs an expert witness?  Or even a calculator – because I've already done the maths.  I jolly well hope that both FNB and Carey Olsen are grateful.
However, this is the short and simple version of the story, but there is another very important dimension.  By giving up a valuable final salary pension, Ms Khuller has surrendered a promise to pay her a certain retirement income for life.  Therefore, my calculation above does not take into account the additional loss arising from the fact that even without the catastrophic investment failures, she would have needed a fund of approaching £800,000 to match the income she would have had if she had remained with the original scheme.
FNB doesn't need to pay any over-priced lawyers because the solution to this case is simple: the firm behaves reasonably, honourably and responsibly; admits liability and makes a claim on its professional indemnity insurance.  It won't cost the firm a penny.  And I will even write a series of nice blogs about FNB International Trustees saying what nice chaps they all are.
Of course, the real "fly in the ointment" will be Carey Olsen as this law firm will not want to give up the prospects of a nice juicy bunch of billables.  The last thing they will want is an easy, amicable, quick and cheap resolution to this matter.  They will probably advise their client to fight the case to the death and try to make out that Ms Khuller's crippling losses are somehow her own fault.
So, if I were to get the opportunity to discuss this dilemma with the lovely guys at FNB, I would point out that they could gain a significant commercial advantage over their competitors Concept Trustees in Guernsey.  Concept was flogging the toxic, high-risk, illiquid EEA Life Settlements UCIS fund to hundreds of low-risk, retail investors and permitting unlicensed Premier Pension Solutions to advise the victims.  Concept has never paid any redress to it's victims – so FNB could come out a real hero (as opposed to a villain).
Settling this matter with dignity and honour could, in fact, prove that FNB International Trustees is capable of meeting Ms Khuller's every need.