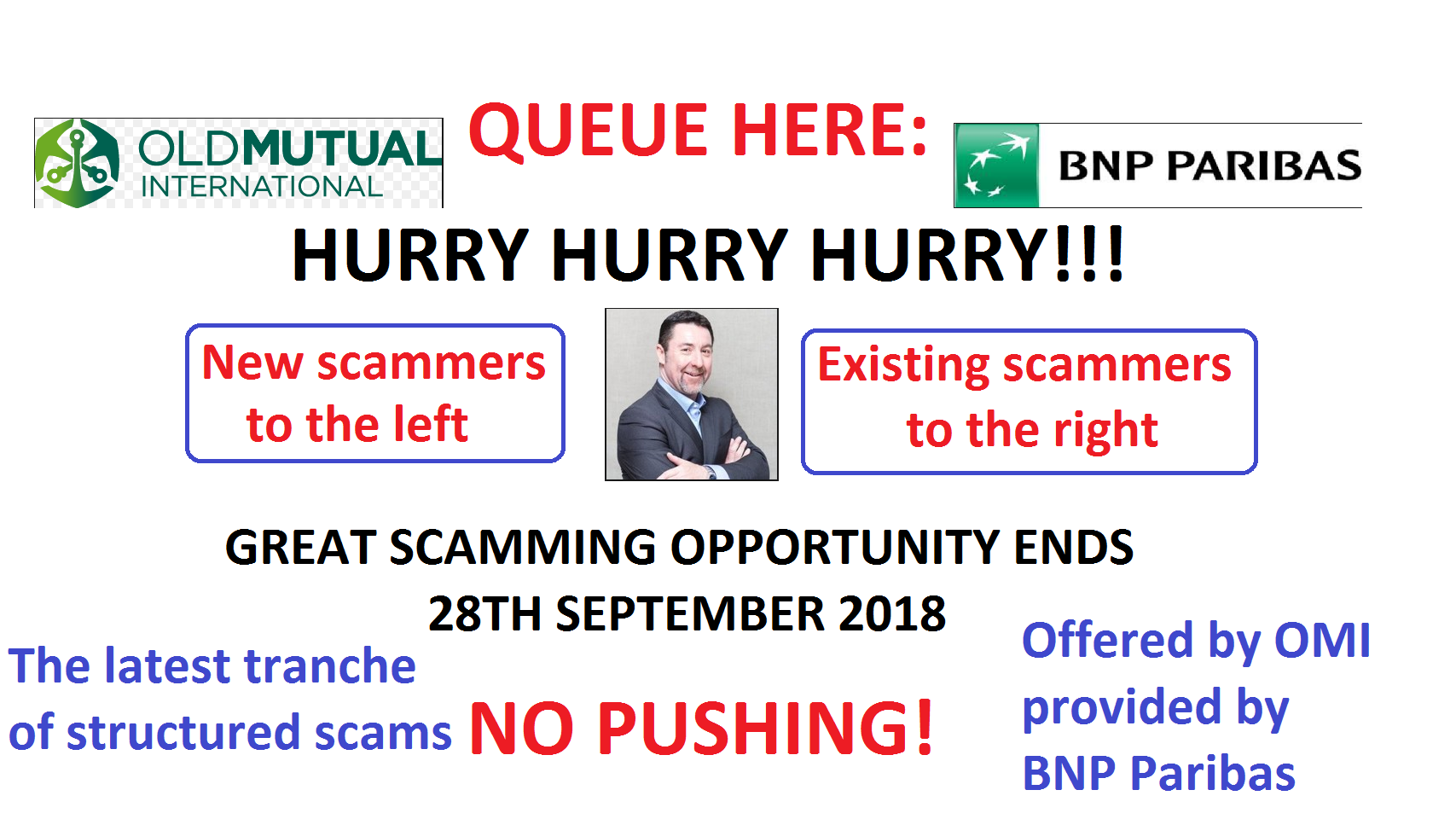 ROLL UP! ROLL UP! ME HEARTY SCAMMERS!  OMI'S LATEST STRUCTURED NOTE SCAM IS ONLY AVAILABLE UNTIL SEPTEMBER 28TH SO GET A JIGGLE ON WHILE STOCKS OF THIS TOXIC CRAP LAST!  WE ARE PROUD TO OFFER OUR VALUED SCAMMERS YET ANOTHER INVESTMENT SCAM
BY OLD MUTUAL INTERNATIONAL.
This wonderful investment scamming opportunity with OMI, is open to all scammers – you need no qualifications and don't have to be regulated.  If you want a bit of training in how to sell this rubbish inappropriate structured product to as many victims as possible, we can give you a quick five-minute whisper behind the bike shed.  But, trust me, it is easypeasylemonsqueezy – just lie.  Tell the victims about the "guaranteed 10% return" bit, but don't tell them about the "capital at risk" bit.
So, what are you waiting for?  You'll earn 8% by selling your victims a useless OMI "PORTFOLIO" bond (don't mention this is illegal in Spain) and then a further 8% from selling this toxic, high-risk BNP Paribas structured note (rubbish inappropriate structured product) which will tie your victims in for six years.
This will give you plenty of time to explain away the losses as "only secondary market values" or "only paper losses".  And by the time your victims realise what you've done to them, you'll be long gone.  And most of them will commit suicide anyway, so they won't be coming after you any time soon.
BNP Paribas has a good reputation as being an ethical, solid company so that will certainly help you with sell these inappropriate structured products.  Just remember, tell the victims as little as possible about this product and hide the commissions you will earn – they will never find out and by the time their life savings have all gone up in smoke you will be sunning yourself on a Caribbean island, far away from the misery of those whose retirement income you will have destroyed.
If the victims are ever organised enough to band together and form a group action, I'll just promise to pay redress for their losses, organise a meeting and then cancel it at the last minute.  That ought to buy you enough time to make your getaway.
Happy scamming – smiley face.  Love from Pete
p.s. BTW, don't worry about the email below the Mad Woman of Spain has sent out – most of the new victims will never have heard of her and by the time they do, it will be too late.  You've only got until 28th September to scam as many suckers as possible, so don't just stand there – SCAM AWAY ME HEARTIES!
p.p.s. Don't worry about my quote about inappropriate structured products – I was just lying (something I'm pretty good at).  With the announcement of new regulations in Malta for QROPS, International Adviser has quoted managing director of OMI (soon to be Quilter) Peter Kenny: "Old Mutual International is encouraging all market participants to help rid the industry of inappropriate structured products"
———————————————————————————————————————————————————-
ATTENTION PAUL EVANS – Head of Region – Middle East & Africa
Old Mutual International (International Structured Scam Specialists)
intmarketing@engage.omwealth.com
1st September 2018
Paul, are you completely mad?  OMI has been offering and buying inappropriate structured products for years and facilitating financial crime by scammers such as Continental Wealth Management.  OMI bought £94 million worth of fraudulent notes by Leonteq – which paid the scammers an extra 2% in commission.  So you must have been accepting business and investment instructions from other scammers besides CWM for at least six years between 2012 and 2016 – as well as for years prior to and subsequent to this period.
And now you are offering more structured notes so scammers can line their pockets and ruin more victims?  Read your own marketing material Mate:
"An autocall product with a six-year term paying at least 10% a year in USD or at least 7% a year in GBP. This is a capital at risk product."
You are a pathetic and revolting human being.  Which bit of CAPITAL AT RISK don't you understand??  OMI has already disgraced itself by offering, buying and selling these totally inappropriate structured products – scam products -, and caused millions of pounds' worth of destruction to innocent victims' life savings.
You, Peter Kenny, Steve Braudo and Paul Feeney are all as bad as each other – and none of you should be working in financial services.  Your conduct is utterly sickening: you are now proposing to ruin more lives and you still haven't paid compensation for the lives you have destroyed already.
How much commission are you paying the scammers on these toxic products?  6%?  8%?  10%?
Instead of behaving with decency and dignity and honouring Old Mutual International's promise to pay redress for OMI's past failures, you are now preparing to launch a whole new tranche of financial crime and inappropriate structured products.
You are all disgusting and this needs to be exposed and all of you outed for the evil scum you are.
Angie

From: Paul Evans – Old Mutual International <intmarketing@engage.omwealth.com>
Subject: Competitive, transparent, simple – new tranche of structured products