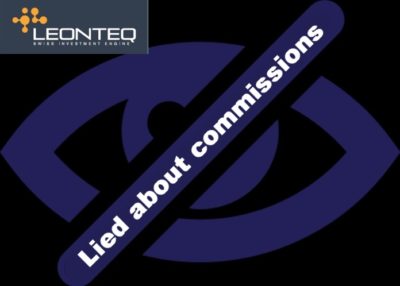 A fine journalist at International Investment reports that Old Mutual International is taking legal action against Leonteq.  She reports that this action is being taken on the basis that Leonteq lied about commissions paid to advisers for using high-risk structured notes.
This news is, of course, very welcome news – especially if it succeeds in securing redress for the "significant financial losses" for the Continental Wealth Management victims.  OMI has stated:
"Had the true level of commission been disclosed, the high-risk structured notes would not have passed Old Mutual International's (OMI) criteria, and no investments would have been made".
OMI has mentioned the "true level of commission".  What it is referring to is the fact that for some particularly toxic notes, put together by rogue Leonteq employee Alex Robinson, the commission paid to the scammers was 8% instead of 6%.  The victims ultimately pay this commission – which is always hidden from them – but in reality the difference between 8% and 6% pales into insignificance when compared to the actual losses themselves.
Leonteq's high-risk structured notes had been failing and causing crippling losses for years.  Just as RBC's, Commerzbank's and Nomura's had also done.  One victim saw his £38,000 pension pot dwindle down to £800 since 2015.
The truth of the matter is the none of the victims should have had any of their retirement savings invested in high-risk structured notes which clearly state on the term sheets:
FOR PROFESSIONAL INVESTORS ONLY

Continental Wealth Management – an unlicensed firm of scammers – bought more and more structured notes.  CWM was not licensed for either insurance or investment advice.
But this raises an important question:
Why aren't SEB and Generali suing Leonteq?
The SEB and Generali victims suffered very similar crippling losses to OMI's.  What are they doing about this fiasco?  What would their "criteria" have done to intervene had they realised Leonteq was paying the scammers 8% instead of 6%?
Apparently, Leonteq is now disclosing commissions on the term sheets for their products.  Great.  Problem is that the victims never get to see the term sheets – or at least not until it is way too late and they have lost half of their life savings.  Having had access to a Leonteq termsheet which clearly states:
This Product may only be sold to qualified investors (the term "qualified investor" has the meaning as defined in Section 10 of the Swiss Federal Act on Collective Investment Schemes "CISA"). 
and
Given the complexity of the terms and conditions of this Product an investment is suitable only for experienced Investors who understand and are in a position to evaluate the risks associated with it.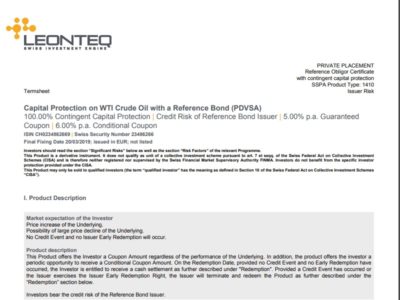 But even if the victims had seen these warning and the fact that they were paying 6% or 8% – on high-risk structured notes – to have their fund systematically  destroyed, what could these people have done about it?  Because, at the end of the day, the client is not the client (apparently).  The client is the life office.  OMI, SEB and Generali are the legal owners of these dodgy structured notes.  Or perhaps the trustee is the legal owner?  Depends on who you ask and why – the answer is always different.
Fortunately for OMI clients – the MD of OMI – Peter Kenny – has said the company is "taking a firm stand against the behavior which has led to such devastating consequences".
Kenny goes on to say that OMI "will do all that we can to bring to account those responsible."  And  is "encouraging all market participants to help rid the industry of inappropriate structured products, which are having a damaging impact on investor confidence and outcomes".
The International Investment journalist ends her article with Kenny's parting comment:
"I would encourage all industry participants to work together to eradicate poor practices once and for all."
  For some, however, the damage has already been done.
A life's worth of savings has already been destroyed.
******************************************
As always, Pension Life would like to remind you that if you are planning to transfer any pension funds, make sure that you are transferring into a legitimate scheme. To find out how to avoid being scammed, please see our blog: