Pension Life is pleased to report that the FCA has woken up long enough to do a spot of regulating and has won an important case over the promotion of unregulated investment schemes. The firm flogging the schemes, Capital Alternatives, must pay back nearly £17m to investors.
The FCA alleged that Capital Alternatives used "false, misleading and deceptive statements" to lure unsuspecting investors into four toxic, high-risk investments (scams) between 2009 and 2013. Capital Alternatives, ran investment schemes/scams involving rice farm harvests in Sierra Leone and carbon credits across Sierra Leone, Brazil and Australia.
In reality, Capital Alternatives sold more land to investors than it actually owned.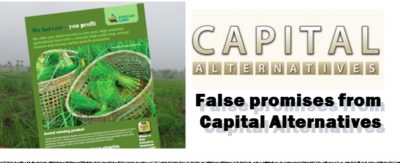 Court proceedings have been taking place since July 2013, with The High Court deciding in February 2014 that the schemes/scams were collective investment schemes which could not be lawfully operated by the defendants. Since this date defendants have been appealing the decision.
It must be highlighted that Capital Alternatives are not the only defendants involved in this case. This is perhaps why proceedings have taken so long. In fact, the FCA stated that there are a staggering 15 more defendants involved in this case.
The FCA lists the defendants:
Capital Alternatives Limited
Capital Secretarial Limited
Capital Organisation Limited
Capital Administration Services Limited
MH Trustees Limited
Marcia Hargous
Renwick Haddow
Richard Henstock (case settled)
African Land Limited
Robert McKendrick
Alan Meadowcroft
Regency Capital Limited
Reforestation Projects Limited
Mark Ayres/Eyres
Mark Gibbs
the estate of David Waygood (case settled).
The eighth and sixteenth defendants settled their cases previously and have paid £33,000 and £200,000 towards compensation for the investors. The FCA has received this money and will hold it until the Court issue further directions to the FCA about the return of money to victims.
The bad news for investors in Capital Alternatives, is that the High Court's decision is still open to appeal. The FCA can proceed to obtain monies from the Defendants only when no further appeals are made. In the meantime, the FCA is seeking new injunctions restraining the assets of some of the defendants. We sincerely hope this means there will be some funds left to be returned to the victims of this scam.
But it would be better news if the other 14 defendants find it in their conscience to settle out of court and put the victims out of their misery.  It is terrible to find out that you have put hard-earned money into high-risk, illiquid or even worthless investments.
FCA Director of Enforcement Mark Steward has been reported as saying:
"This judgment should send a clear message to all of those who use corporate facades to sell dubious investments. We will do what it takes to hold them to account for their misconduct.
We are acutely aware from experience that the risk to investors who deal with unauthorised firms is that most, if not all, investors are likely only to get a fraction of their money back.
Consumers should recognise that there are huge risks involved when investing with unauthorised businesses."
Investors should be aware that investments into sustainable/renewable energies, farming and recycling schemes are favorites of scammers. They entice you in with promises of your investment being good for the environment.  However, they are rarely good for your pocket.  James Hay and Elysian Bio fuel is one example of toxic investment using biofuels as a lure.
In Novemeber 2017 we also wrote about the SFOs letter to Frank Field. The letter highlighted cases of prosecutions against pensions fraud.
Sustainable Agroenergy (SAE) Plc:  investors were told their investments were in biofuel products, that land was owned in Cambodia and planted with Jatropha trees – a tree with highly toxic fruit that could be used to produce biofuel. At the time of sale, there was already evidence to show that the product was neither sustainable nor profitable.
New Earth Recycling fund – an investment scam promoted by a number of dodgy firms including Robert Parker of Holborn Assets and Paul Herd of Elite Wealth Management. This high-risk, toxic investment offered big fat introduction commissions. The introducers were the only ones to profit from this investment.
The BARRATT AND DALTON PENSION SCAM: – one couple fell victim to this scam despite being advised by their pension provider that it could be a scam. They received a lump sum and were told their pension was invested in truffle trees. After reporting the case to the police, they were later informed that their lump sum was from their own funds and HMRC promptly served them with a large tax bill.
**************************************************************
As always, Pension Life would like to remind you that if you are planning to transfer any pension funds, make sure that you are transferring into a legitimate scheme. To find out how to avoid being scammed, please see our blog: