Investors' trust is what gets violated in so many cases by irresponsible and negligent insurance companies such as Old Mutual International, SEB, Generali, RL360, Friends Provident International – and, of course, the firm in the Cayman Islands: Investors Trust.  These companies – also known as "life offices" (although we prefer to call them "death offices" because they help destroy victims' life savings – and sometimes cause the death of their distraught victims) – have a number of lethal practices which result in financial ruin for thousands of policyholders:
The life offices take business from any old known scammers – firms without proper licenses and with a known history of defrauding the public
The life offices will offer toxic, illiquid, risky funds – including UCIS funds – such as LM and Mansion on their platform (without doing any proper due diligence as to how quickly these funds can eradicate the life offices' victims' life savings)
The life offices will accept investment instructions from unqualified scammers who work for firms with no investment license – and, in some cases, with no insurance license either
The life offices will accept dealing instructions – often with fraudulently-copied or forged signatures – on dealing instructions for toxic assets such as professional-investor-only structured notes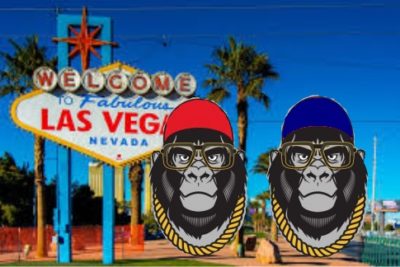 A prime example of these vile practices was in the case of Mr. S – a driving instructor from Milton Keynes.  His final salary pension scheme was transferred to a QROPS in Malta despite the fact that he was a UK resident and had no need for his pension to be transferred offshore.  His "adviser" was David Vilka from a firm called Square Mile International Financial Services.  This firm had an insurance license but no investment license.  Therefore, Square Mile could legally sell insurance products such as dog insurance – but could certainly not provide investment advice.
Mr. S' pension fund was then placed in a "life bond" with Investors Trust in the Cayman Islands.  This was an entirely gratuitous transaction, as he had absolutely no need of such a bond – known to be a spurious life assurance policy used for what is called a "single premium" insurance contract.  These bonds are illegal in Spain, since the Spanish Supreme Court has ruled that they are being used to hold investments in contravention of the nature of what insurance is supposed to be (i.e. risk for the insurer).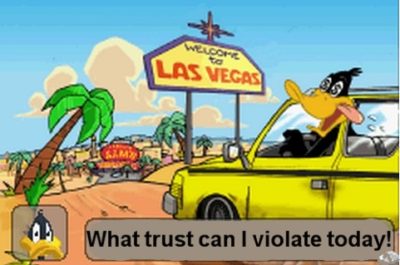 The entire fund – which represented Mr. S' retirement savings – was then invested in two toxic UCIS funds (illegal to be promoted to UK-resident, retail investors) called Symphony and Blackmore Global.  Investors Trust negligently accepted these investments from Square Mile – in the full knowledge that this was absolutely against the interests of the policyholder and that the "advisory" firm had no investment license.
After a protracted battle, waged with great tenacity and dogged determination, Mr S did indeed get back a large proportion of his fund.  But he still suffered what can only be described as a harrowing experience which resulted in a total loss of a significant chunk of his pension to the scammers (who will have profited handsomely from scamming him in the first place).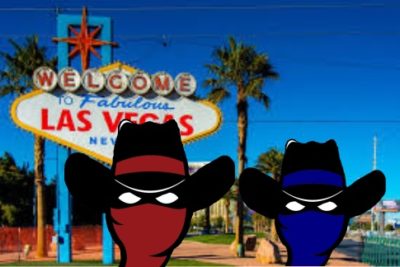 Far from being contrite or apologetic, however, the scammer who risked Mr. S' pension in the first place – David Vilka of Square Mile International Financial Services in the Czech Republic – showed no shame and made no attempt to recover the remainder of his victim's pension.  In fact, when I exposed Vilka's vile scam, I was threatened by his two-bit American lawyer Douglas Davies of Lowell Davies LLP.
But what of the Cayman Islands-based life office – Investors Trust?  Did they try to help Mr. S recover his serious losses?  Did they offer him compensation for the significant distress he suffered at the hands of the scammers at Square Mile?  Did they publish a statement demonstrating recognition of the damage done to victims' life savings by investing in toxic crap like Blackmore Global on the instructions of scammers like David Vilka?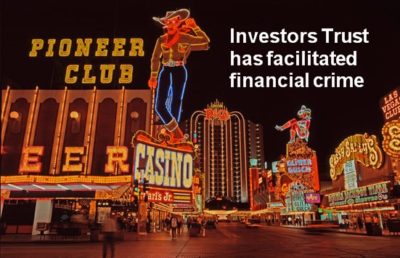 The answer, of course, is a resounding "no".  Investors Trust could have done so much to reform these illegal practices and expose the likes of scammer David Vilka who scammed not only Mr. S out of a big part of his pension, but also scammed hundreds of victims into the Hong Kong QROPS scam (many of which got invested in Blackmore Global).
Instead of showing any contrition or regret for facilitating financial crime, an idiot at Investors Trust called Lindsay Paris emailed me threatening to sue me for using a picture of David Vilka and John Ferguson posing as vulgar spivs at Las Vegas.  This revolting photograph is, apparently, the property of Investors Trust:
"This is my second attempt to reach you regarding the copyright infringement on your website. Please have the image removed immediately or we will have no other choice but to seek legal action.
This is not the first time you have fraudulently misused private images and copyrights without authorization. You are imposing on our ownership rights and we would appreciate it if you would refrain from any future use of Investors Trust-owned materials. It is a serious violation which we will continue to pursue.
Please have the image on this page https://pension-life.com/david-vilkas-vile-us-attorney/ removed immediately.
Thank you,
Lindsay Paris, Media and Communications Manager, Investors Trust Administration
So, no apology for destroying victims' life savings; no apology for taking business from a firm which was not regulated to give investment advice; no apology for investing a victim's pension in a toxic UCIS fund run by known scammer Philip Nunn….just a complaint about a violation of their ownership rights of a picture of the scammers bearing the Investors Trust logo.
It is reported that Old Mutual International has put aside £69 million to pay compensation for their victims' losses.  May I suggest that Investors Trust should do the same thing – and then I will happily take down the vile picture of Vilka and Ferguson.  But until then, it stays up.  And if you want to sue me – go ahead:

make my day

.