Phillip Nunn has been reported to Action Fraud – which John Ferguson of Square Mile Financial Services describes as being "nobody and with no authority" – on numerous occasions by victims of various scams.
Phillip Nunn, cold caller and "fund manager" of the Blackmore Global investment scam, was given the Entrepreneur of the Year Award by JCI Manchester, but this was reversed shortly afterwards:
"JCI Manchester have today been made aware that an audit may be being carried out in respect of the Blackmore Global Fund.  This was not information we were privy to before Phillip Nunn was awarded a 'Manchester Young Talent Award' this week.
If such an audit is being carried out, we will await the results of the same and we will consider any other information which comes into the public domain. Pending this, the JCI Manchester board have decided to suspend the award given to Phillip Nunn."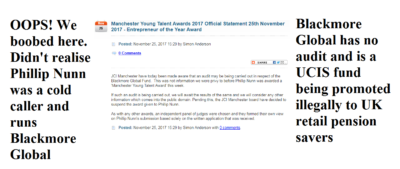 "An independent panel of judges formed their own view on Phillip Nunn's submission based solely on the written application received."
I would love to read Phillip Nunn's submission.  It would certainly make very interesting reading.  I doubt it would have included the fact that Nunn and his accomplice Patrick McCreesh were cold callers and lead generators in the Capita Oak/Henley Retirement Benefits/multiple SIPPS/Store First scam – which led to well over 1,000 victims losing over £120 million worth of pensions.
The Insolvency Service produced a witness statement which stated:
"Members of CAPITA OAK indicated they were initially contacted by Craig Mason or Patrick McCreesh of Nunn McCreesh of Its Your Pension Ltd and offered pension review services prior to them being referred to JACKSON FRANCIS or Sycamore for the transfer of their pension to CAPITA OAK.
On 3.3.15 I received an undated letter in which it was stated that Its Your Pension had not traded and was a dormant company and that Nunn McCreesh had traded as an insurance brokerage between 2009 and 2012 when they entered into a verbal arrangement with TRANSEURO where in return for providing pension leads to JACKSON FRANCIS they received a commission from TRANSEURO.
Nunn McCreesh provided JACKSON FRANCIS with 100-200 leads per month which were provided by email and/or telephone for which they received £899,829.86 from TRANSEURO during the period 26.3.12 to 14.5.14."
Phillip Nunn's lawyers, Slater and Gordon (funny that, also nominated for an award) tried to claim that Nunn McCreesh's involvement in the Capita Oak scam was "minimal".  But I wouldn't describe generating 5,000 leads,  cold calling thousands of victims and being paid nearly £900k "minimal".
On the subject of Slater and Gordon, earlier this year they threatened me with defamation proceedings for exposing Nunn's scamtivities.  It was curious that they couldn't see any conflict of interest in representing Phillip Nunn when they were also representing the very victims (of Capita Oak) whom he had cold called in the first place.
Slater and Gordon's Steve Kunziewicz claimed that "Blackmore Global is a prestigious, multi-asset investment house with over £60 million in assets under management, offering institutional and high net-worth clients access to a wide variety of investment products in order to maximise their returns."
But there is no audit for Blackmore Global and only evidence suggesting the fund is invested in toxic, high-risk, illiquid crap including:
Swan Holding PCC
Kingston Capital Partners (Belize private equity vehicle controlled by Nunn & McCreesh)
GRRE Invest
Spinaris 90 ( UK sports spread betting)
The Blackmore Global audit was promised more than a year ago but never materialised.  The audit has now been promised "by the end of the year" – but Grant Thornton won't specify which year.
However, far from the Blackmore Global fund being aimed at "institutional and high net worth clients", Phillip Nunn targets low-risk pension savers using a variety of unregulated so-called "advisers" such as David Vilka of Square Mile Financial Services.  Many of the Blackmore Global victims were cold-called and/or introduced by Phillip Nunn's cold-calling outfit, Aspinall Chase.  Some were transferred to Maltese QROPS run by Integrated Capabilities and Harbour (now taken over by STM) and to Hong Kong.
Blackmore Global is a UCIS fund – unregulated collective investment scheme.  And it is illegal to promote these to UK retail investors as this was banned by the FCA in 2014.
I doubt the other nominees and award recipients will appreciate having been listed alongside Phillip Nunn who has a history of promoting other scammers' pension scams and is now running one himself.  Perhaps JCI Manchester ought to vet candidates for the Manchester Young Talent Awards more carefully in the future.