RL360's acquisition of Friends Provident International may be set to ruin even more investors internationally. It will certainly increase competition with Quilter (or Skandia, or Ann Summers or whatever OMI are calling themselves this season).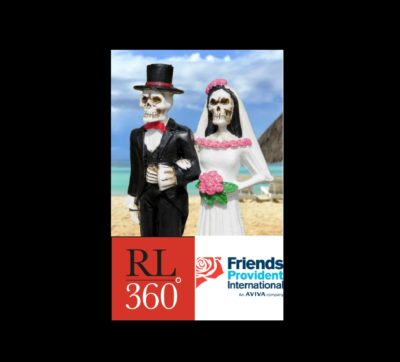 The biggest question – and one which International Adviser's Kirsten Hastings forgot to ask RL360 David Kneeshaw when she interviewed him on 16.7.2020 – is:
Why on earth RL360 wanted to buy a company which is being sued for £millions after thousands of FPI victims lost their life savings in a high-risk fund mis-selling scandal?
During the International Adviser 12-minute video, Kirsten never brought the subject up once. Forgetfulness? Deliberately avoiding the issue? FPI is being sued alongside Quilter – main sponsor of International Adviser.
Kneeshaw seemed like an amiable fellow in the interview as he proudly announced that "all good things come to those who wait" (a sentiment with which thousands of death bond investors would strongly disagree). Kneesup also proclaimed that he is glad to be able to integrate the businesses and that the marriage has produced a "good, strong, stable company".
But the question hung in the air like a fart in an elevator: what about the £100m+ worth of high-risk funds which were "entirely inappropriate for unsophisticated investors" (International Adviser's words – not mine). And why didn't Kirsten mention it? And why didn't Kneesup explain what provision he has made to compensate thousands of FPI's victims?
Kneesup confirmed that RL360 paid £259 million for FPI (£209 million in cash and £50 million in deferred cash). So has he kept back another hundred million or so to settle FPI's liabilities to its victims who have lost their life savings?
Victims staring financial ruin in the face will want to know why RL360 didn't just pay – say – £159 million for FPI and keep back £100 million for the victims. Or perhaps the £50 million in "deferred cash" is being put aside for that?
Or maybe, FPI should have paid RL360 to take the company away and sort out the toxic and destructive mess which has ruined thousands of policy holders.
Kneesup went on to proclaim that the future of FPI "is secure and can carry on as normal". Well, I bloody well hope not! "Normal" has been an absolute disaster which has resulted in a catastrophe of epic proportions. FPI was giving terms of business to hordes of unlicensed, unscrupulous, unqualified "advisers" (in reality, just bond salesmen).
These "Chiringuitos" (as the Spanish regulator refers to them in their warning about financial scams) have destroyed £ millions in their relentless quest for commission.
The deeply iniquitous practices – so enthusiastically facilitated by life offices – included charging victims fees, plus an 8% commission on the (entirely unnecessary) insurance bonds, plus further commissions on the toxic investments offered by the life offices.
Another "hot" topic that Kneesup failed to mention was how the RL360/FPI "marriage" intends to compete with Quilter in the "race to the bottom" of offshore financial services. Of course, it won't exactly be difficult since Peter Kenny – CEO of Quilter/Ann Summers – will deal with any old "advisers". Kenny certainly isn't fussy: the sole director of one of his leading "clients" from 2010 to 2017 was a former prostitute and porn star (whose firm destroyed much of the £100m placed in insurance bonds and invested in structured notes).
However, I really do like to give people the benefit of the doubt. Assuming that Kneesup does have at least a few honourable intentions, here are some friendly suggestions as to how the RL360/FPI marriage could help clean up this toxic "death bond" industry:
Don't deal with advisory firms which don't have a license
Don't deal with advisory firms which don't have an investment license
Don't deal with advisory firms whose "advisers" aren't qualified
Don't deal with advisory firms who have a history of investing their victims' life savings and pensions in toxic crap (high-risk, professional-investor-only funds and structured notes)
Don't pay commissions – if the insurance bonds are any good, and the clients genuinely need them, the products will sell themselves
Don't tie investors in for fixed terms – give them the flexibility to get out whenever they want or need to
Don't offer investments – the industry has shown it is incapable of performing asset reviews and weeding out toxic rubbish
Keep the fees in proportion to the fund value – allow flexibility/drawdown without unnecessary "drag" on the funds
Only allow advisers to sell insurance bonds when they are actually needed (which is hardly ever)
But the biggest friendly suggestion of all to the amiable Mr. Kneesup with the fringe on top is: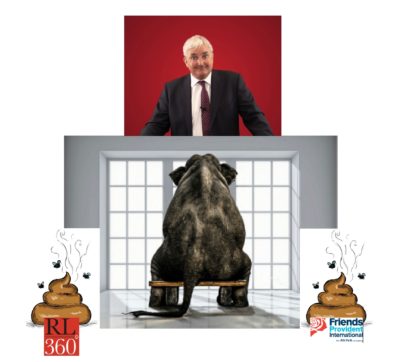 Address the elephant in the room: pay compensation to the thousands of FPI and RL360 victims who have lost their life savings and are facing financial ruin.
In his euphoria at the completion of the acquisition of FPI, Kneesup must remember that the insurance bond is the World's biggest cause of offshore financial crime. Insurance bonds have been ruled by the Spanish Supreme Court as being invalid for the purpose of holding investments. Virtually all insurance bonds ever sold in Spain have been done so illegally – it is a criminal offence to sell insurance bonds outside the precise stipulations of the Spanish insurance regulations in Spain.
I really hope that the elephant in the room will be dealt with. David Kneeshaw has a golden opportunity to help reform the offshore financial services industry. He can emerge from the appalling news of this marriage made in hell as a hero in shining armour – or just another sordid perpetrator of scams and financial crime. He can put Quilter's Peter Kenny to shame, or become just as bad as him. The World will be watching. Let us hope Kneeshaw chooses wisely – and becomes "Kneesup" rather than "Kneesdown".
A number of "advisory" firms are now facing criminal proceedings for fraud, disloyal administration and falsification of commercial documentation – all of which involved the illegal sale of Quilter, RL360 or FPI insurance bonds. Kneeshaw now has a choice: help tackle this widespread crime, or keep on facilitating it.