This has been a week of scammers trying to silence the din of their sin.
No matter how hard they try – stealing newspapers, denying the truth on social media or taking me to court – hard evidence simply won't go away. It is there to stay.
Costa Blanca Newspaper The Olive Press ran a story last week on Neil Hathaway of Continental Wealth Management. Hathaway – along with colleagues Anthony Downs and Dean Stogsdill – had been one of the three most senior players beneath Darren Kirby and Jody Smart in the £100 million fraud committed against 1,000 victims.
Masquerading as "financial advisers" from 2010 to 2017, Hathaway, Downs, Stogsdill and Kirby conned hundreds of pension savers into transferring their pensions offshore so that CWM could make £ millions out of concealed commissions on the insurance bonds and structured notes they used to destroy their victims' life savings.
Operating illegally in Spain, Darren Kirby and his partner Jody Smart – sole director of the company (Continental Wealth Trust S.L. trading as Continental Wealth Management) – entrusted the dodgy trio with managing the fraudulent operation. Kirby, Smart, Hathaway, Downs and Stogsdill – along with their associates Stephen Ward of Premier Pension Solutions and Paul Clarke of Roebuck Wealth Management – are all now facing charges of fraud in the Denia court.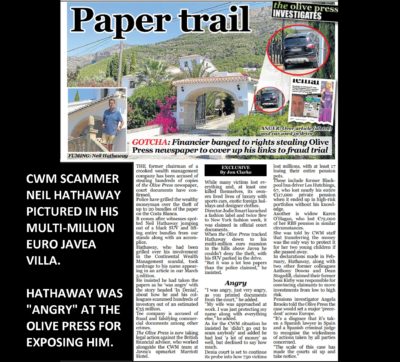 Neil Hathaway was caught stealing bundles of copies of The Olive Press in his black SUV. Now being investigated by the local police, he is claiming he committed the crime because he was "angry" at having been outed in a previous Olive Press article – along with Darren Kirby and Jody Smart.
Hathaway's defence appears to be that he stole fewer copies of the Olive Press newspaper than the police say he did; that his wife had been "approached at work"; and that he was "protecting his name".
And this is the bit that scammers never seem to understand: Neil Hathaway's name is on thousands of documents which evidence what he did to hundreds of CWM victims. Stealing hundreds of copies of a free newspaper isn't going to make that evidence go away.
The hundreds of emails written by Neil Hathaway conning his victims; the OMI, SEB and Generali statements and valuations reporting the huge losses suffered by his victims; the many testimonies of his distressed (and often suicidal) victims will still evidence what he did – no matter how many copies of The Olive Press he steals and destroys.
Hathaway's former "boss" Jody Smart (aka Jody Bell, Jody Kirby or Jody Pearson) has also been exposing (and disgracing) herself this week. A collection of "artistic" photographs has been doing the rounds on social media – evidencing Jody's talents in partnership with a somewhat bouncy buddy.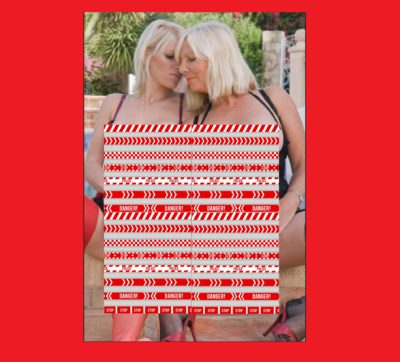 I wonder what they were promoting? It could easily have been blond hair dye or red stockings – or anything in between. But it is hoped they would both have been more transparent about what they charged for their services than the "advisers" at CWM were.
And this, of course, is a perfect illustration of why so many offshore "advisers" behave – and promote themselves – in a manner which is so misleading. They purport to be giving "advice" which will improve expats' pension arrangements by transferring the funds offshore. But the reality is that even if their pensions should have been left where they were in the UK, their principal motivation was to earn hidden commissions out of selling insurance bonds and high-risk investments.
However hard anyone tries to remove this image of Jody Smart and her "Big'n Bouncy" associate (and other even more eye-watering images which I cannot publish because they might offend my gentle readers) from the internet, one can never un-see what has been seen. The memory of this photograph can never be extinguished – any more than the evidence of the destruction of so many of her clients' pensions can ever be rubbed out.
The scammers at CWM are soon going to be joined by their counter parts at Spectrum IFA Group, Pennick Blackwell/AES International and Holborn Assets. This would already have happened had it not been for Covid 19 and the closure of the courts.
All these firms, and their so-called "advisers" (in reality just poorly-qualified salesmen) have several things in common:
They all recommend pension transfers even if it is in the client's interests to leave the pension where it is (in the UK)
They all lie about the merits and advantages of QROPS
They have all decided – before they know the first thing about the client – that he is going to be put into an insurance bond
They all seek out investments which pay the highest (hidden) commissions – irrespective of whether these funds are any good (which they usually aren't)
They rarely have any relevant financial services qualifications
Their firms are frequently unlicensed for insurance mediation or investment advice
They are all committing a criminal offence every time they sell an insurance bond in Spain (and possibly other jurisdictions)
A few of the scammers are now facing criminal charges in Spain. Several scammers are under investigation by the Insolvency Service and/or the Serious Fraud Office. A couple of "life" offices are facing civil proceedings in the Isle of Man. A QROPS provider is facing civil proceedings in Gibraltar. Another QROPS provider is facing criminal proceedings in Hong Kong. A fund manager is about to face criminal proceedings in the Isle of Man. The tide is beginning to turn against the global trend of financial crime.
When all's said and done:
Stealing newspapers or trying to prevent the publication of the crimes isn't going to change any of that. The hard evidence of the crimes will remain – no matter how hard the scammers try to hide it.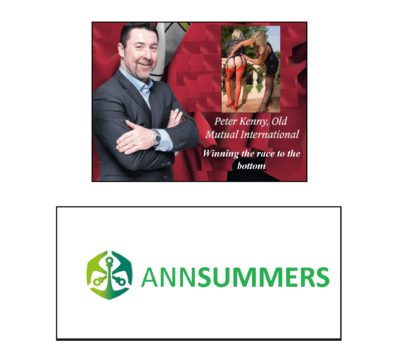 It doesn't look like Old Mutual International (or Skandia or Quilter or whatever they are calling themselves this summer) is going to be able to bottom out their "clean up" operation. Perhaps they ought to try changing their name again so people forget what they did in the past? Perhaps under CEO Peter Kenny's watchful eye, this might be achieved?