SEB – NO TRUST – NO RESPECT – NO EXCUSE.  SEB's many victims have no trust or respect for this disgraceful firm which has failed them so dismally.  There has been no excuse for SEB's appalling behaviour – and now is the time for SEB to put the damage right.
This week, SEB had the gall to write to its many victims as below:
From: <no-reply@seb.ie>
Date: 22 de mayo de 2018, 17:03:52 CEST
To: <SEBvictim@yahoo.co.uk>
Subject: Important information regarding the General Data Protection Regulation
Dear client,
We respect the trust you place in us when you share your information with us. So we are letting you know about improvements to how we use, store and share the information we hold about you.
The European Union is introducing new legislation, the General Data Protection Regulation (GDPR), which comes into effect on 25th May 2018. GDPR significantly changes data protection law in Europe.
Yours sincerely,
Orla Golden
Operations Manager SEB Life International
Phone: +353 1 487 0700
Trust?  Respect?  Is Orla Golden having an 18-carat laugh?  Does he truly think that a single one of SEB's victims gives a damn about their "information"?  Doesn't he think that, actually, all SEB's victims would love to share the information that they have been ripped off, conned and scammed by SEB?  And that while their life savings continue to dwindle away to nothing, SEB is continuing to charge extortionate quarterly fees?
The European Union should ban scammers like SEB (and Generali) from operating in Spain and the whole of Europe.  SEB is a disgusting parasite and brings the whole of the financial services industry into disrepute.  SEB took business from an unlicensed firm of known scammers (Continental Wealth Management) and then sat back and watched while toxic structured notes destroyed hundreds of victims' life savings.  And did NOTHING.
Who at SEB is responsible for the travesty of the destruction of hundreds of victims of the Continental Wealth Management scam?  And the terrible stress these people are going through?  This guy:
https://www.linkedin.com/in/conor-j-mccarthy-8419263/
Conor J. McCarthy.  And his email address is conor.mccarthy@seb.ie
His Linkedin profile claims that he is European Sales Director with responsibility for Intermediary sales with SEB Life International.  That means that he was responsible for accepting business from Continental Wealth Management and for the destruction of millions of pounds' worth of life savings.  He took millions of pounds worth of business from an unlicensed firm of known scammers and accepted investments in toxic, high-risk structured notes – including the fraudulent Leonteq ones – knowing full well that the victims were low/medium risk pension savers.
Mr. McCarthy also claims that: "As a qualified financial adviser (QFA) I have a keen understanding of financial planning and investment needs of international clients. As a marketing graduate, I try to communicate in such a way that it all makes sense to clients."  I really don't think that any of SEB's victims have any trouble understanding the communications that reported their losses.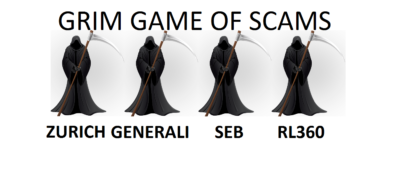 As a marketing graduate, Mr. McCarthy should understand that the best way to "market" a company is to compensate the victims without them having to sue SEB.
The managing director of SEB is Peder Nateus and I assume his email address must be peder.nateus@seb.ie
So let us all share our information about SEB's sickening behaviour and tell the European Union what we all think about SEB as publicly as possible.