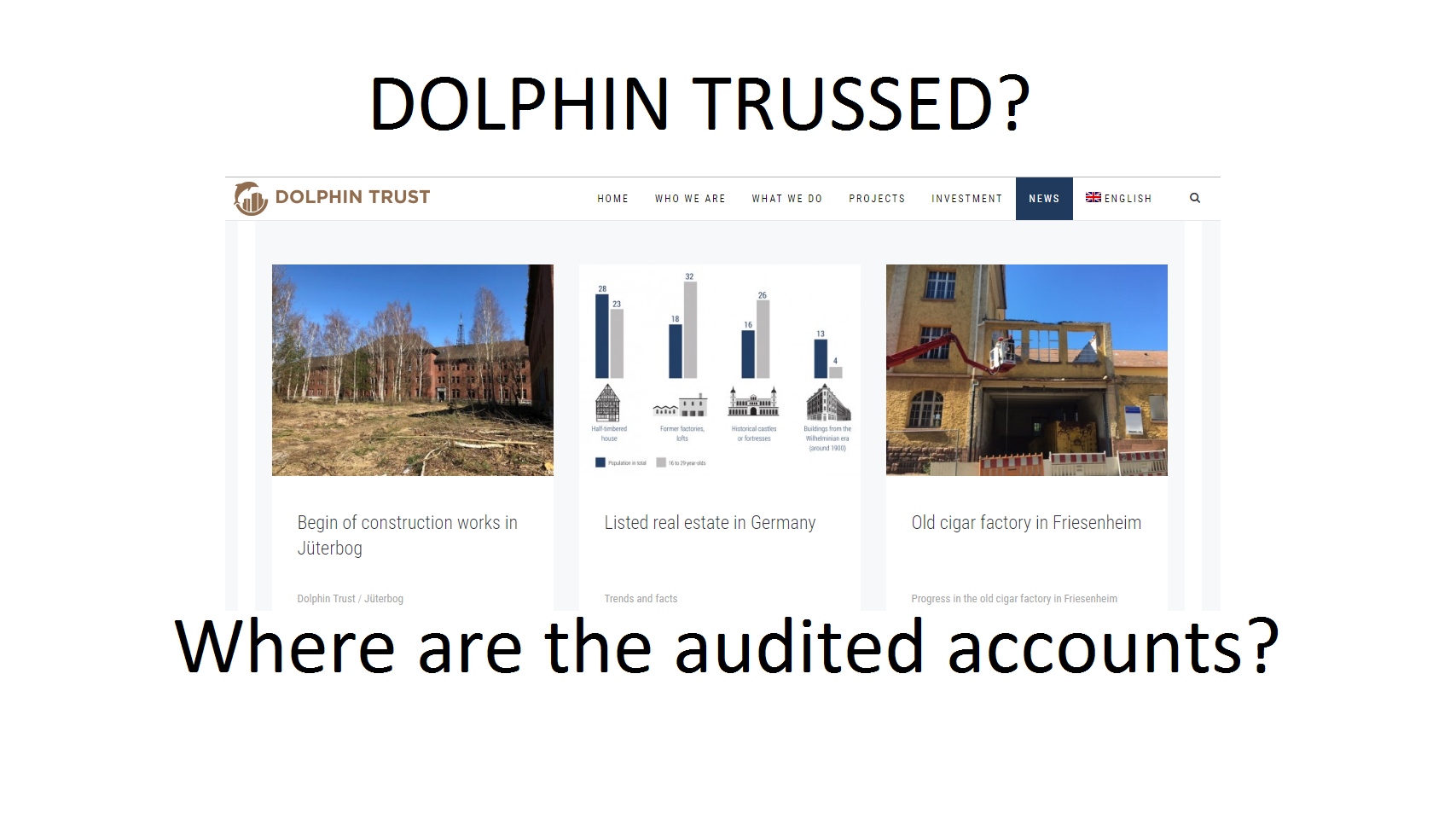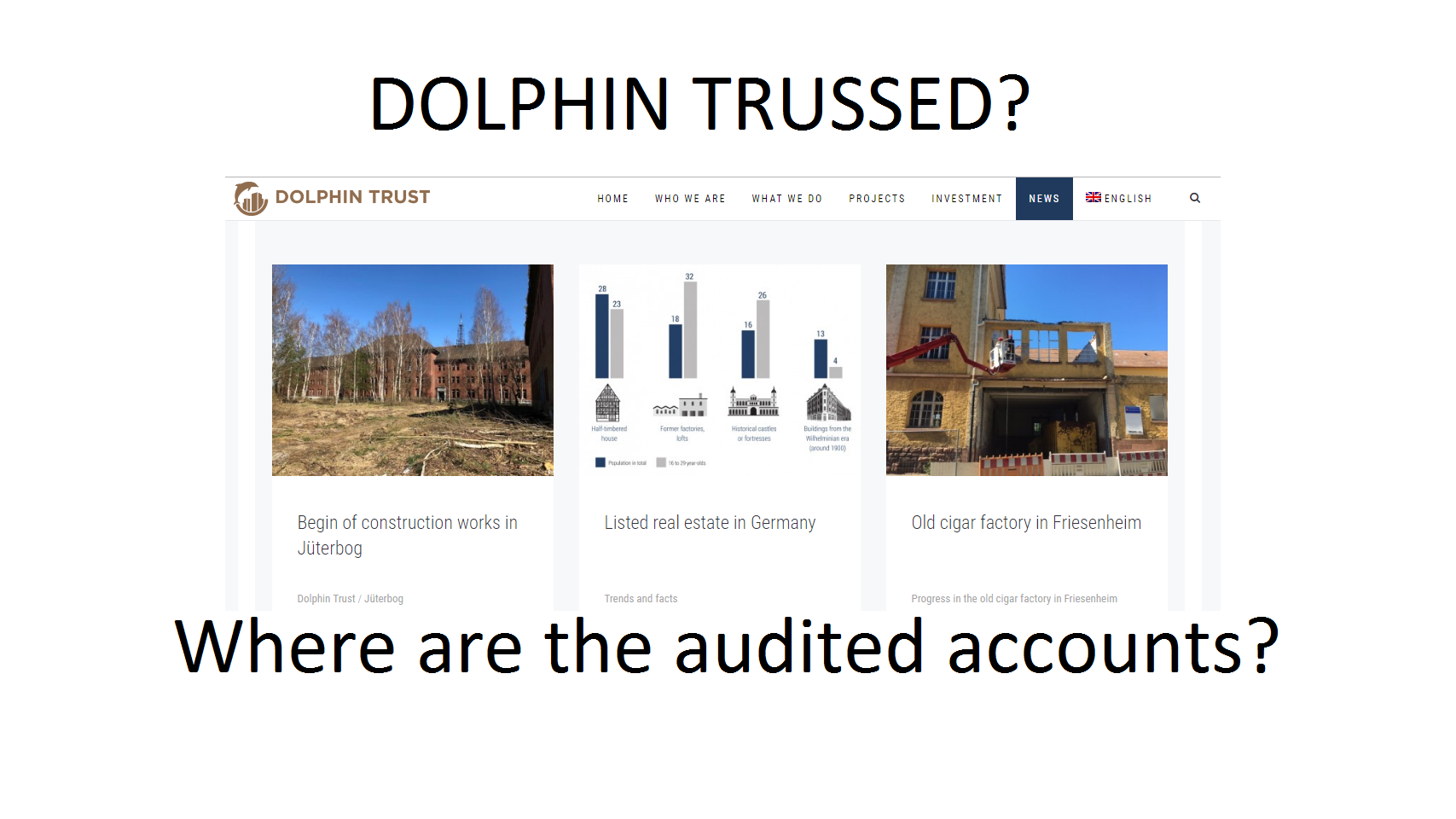 I've been very concerned about Dolphin Trust GmbH for some time.  There's an awful lot of pension money being loaned to this company – and I don't get to hear of many (in fact any) people who have had their loans repaid.  That doesn't mean they haven't been repaid – it just means I haven't heard about it.
The things that bothers me about Dolphin Trust are:
There are no audited accounts available
Dolphin has been used by an awful lot of pension and investment scammers – including Stephen Ward in the London Quantum pension scam (now in the hands of Dalriada Trustees)
"Introducers" get paid eye-watering commissions of up to 25%
If the assets and projects are so good, why pay private lenders 10% interest (on top of the 25% commission) – why not just go to the bank?
I have recently heard that Dolphin and some of their dodgy "introducers" are now trying to convince lenders to take their loans back in the form of shares in the company
But the biggest concern I have is that Dolphin Trust formed a major part of the underlying investments in the Trafalgar Multi-Asset Fund scam – run by James Hadley of Global Partners Limited and STM Fidecs in Gibraltar.  This fund is now being wound up by Stephen Doran, of Doran + Minehane.
The Trafalgar Multi-Asset Fund and James Hadley are currently under investigation by the Serious Fraud Office.  Ironically, Justin Caffrey of Harbour Pensions once told me that Hadley came to see him to try to flog the obviously dodgy Trafalgar fund.  Caffrey claimed he could see Hadley was an obvious spiv straight away and that Trafalgar was clearly bad news – so he sent the ginger scammer packing.
And then STM Group bought out Harbour Pensions and got custody of some of Caffrey's Blackmore Global Fund worthless crap to keep the Trafalgar Multi Asset Fund worthless crap company.  You couldn't make it up!  A bunch of toxic rubbish flogged by scammers Phillip Nunn and James Hadley.
STM Fidecs had notified the hundreds of victims that there would be a distribution in early 2018 once Doran + Minehane had got rid of some of the Dolphin Trust loan notes.  But then STM did a U-turn and announced there wouldn't be a distribution at all.  Clearly, getting shot of the loan notes was more difficult (or impossible) than Mr Doran first imagined.  Or perhaps he did get rid of them – but got shares in Dolphin Trust or Vordere instead (and this is the reason for the lack of distribution by STM Fidecs).
Any way you look at it, Dolphin Trust is looking dodgier than ever now it is well known that there are £21 million worth of Trafalgar Multi Asset Fund loan notes out there looking for a warm and cosy (and gullible) home.
Quite apart from the fact that no self-respecting introducer or financial adviser should EVER be caught selling high-risk, unregulated, non-standard "assets" in the first place, surely nobody would ever want to be caught flogging the same stuff that the likes of James Hadley and Stephen Ward were making a fortune out of.
I did try to call Dolphin Trust, but they don't answer their phone.  Maybe they don't like cold calls (which is how most victims get scammed into lending them money in the first place).
Without the benefit of any assurances from the nice men at Dolphin Trust – Charles Smethurst, Helmut Freitag, Axel Krechberger and Matthias Ruhl – we will just have to hope that Mr Doran manages to offload the second-hand loan notes that STM Fidecs allowed 400+ victims' life savings to be invested in.  Perhaps I'll drop him a friendly note and suggest he tries ebay.