I have read the report about what happened to the scammers at STM Fidecs in the wake of the Gibraltar FSC's investigation and Deloitte's so-called "expert report".
Frankly, I am stunned.  I have members who are victims of the Trafalgar Multi-Asset Fund and STM Fidecs and they are, understandably, stunned as well.  I have met the people at the Gibraltar FSC and they had seemed decent guys |(but WTF do I know?!).  Maybe they've all left, because the people I met appeared enthusiastic and conscientious.  But perhaps they've been replaced by a bunch of malfunctioning robots, or ex-scammers or – much worse – ex STM Fidecs employees.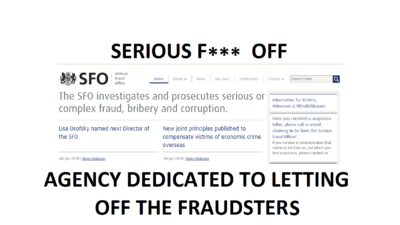 The bottom line is that STM Fidecs scammed hundreds of victims out of their pensions.  STM Fidecs took business from unlicensed scammer James Hadley of Global Partners Limited (only had an insurance license with Marcus Groombridge's firm Joseph Oliver) and then invested 100% of the victims' funds into an illegal UCIS fund – run by James Hadley (now under investigation by the Serious Fraud Office – although I really don't know what they are playing at because Hadley still isn't behind bars).
The rest is history.  The Trafalgar Multi-Asset Fund is being wound up, and after paying the liquidation costs to Stephen Doran, of Doran + Minehane, there is unlikely to be much – if anything – left.  Deloittes spent weeks supposedly investigating STM Fidecs' books.  I reckon the chumps at Deloittes probably spent most of that time on the golf course with Alan Kentish having a chuckle and a side bet about how feeble the Gibraltar FSC was likely to be.  And, of course, they were right.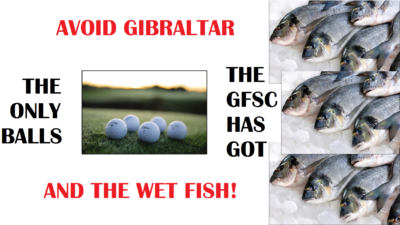 Now, of course, Deloittes and STM Fidecs are celebrating, as the GFSC has done nothing to stop this iniquitous, dishonest, incompetent and negligent firm from trading.  Whether STM Fidecs bribed the Gibraltar FSC, or merely got them drunk on the golf course, we will never know.  And it makes no difference.  But certainly the matter has been brusquely brushed under the carpet and the hundreds of ruined lives have been conveniently ignored and forgotten.
Neither STM Fidecs nor the Gibraltar FSC has said a word about redress for the Trafalgar Multi-Asset Fund victims.
The only words spoken are that the Gibraltar Regulator has told STM Fidecs to "improve its compliance".  Improve??  How can you improve something that doesn't even exist at all?  We know that one victim (of scammers Holborn Assets) was bullied by STM Fidecs for trying to improve compliance and harassed for trying to stop obviously non-compliant transactions when she was employed by them.  She was subsequently "paid off" and threatened with a gagging order.
"STM is now expected to engage with the Gibraltar FSC in order to discuss the Recommendations of the report, and agree a plan of action to implement them." (according to the report by FT Adviser).  Recommendations?  Where are the sanctions?  Where are the appropriate fines?  Where are the bans to stop Alan Kentish and David Easton from ever practising in financial services again?  Where is the cancellation of STM Fidecs' license?
With this in mind, here are some idiots' guides as to how to become a pension trustee, and how to become a regulator.  Both are equally easypeasylemonsqueasy – any old idiot or scammer could do it.
HOW TO BE A PENSION TRUSTEE IN EASY STEPS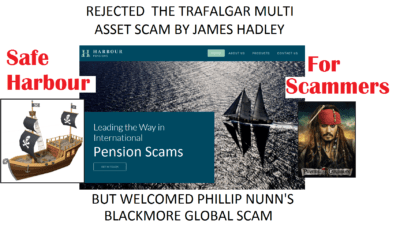 Think of a catchy name: obviously inspired by the acronym STD, Alan Kentish came up with the name STM.  FIDEC is an acronym for "Fighting Infectious Diseases in Emerging Countries".  Here's my suggestion: Trussed4U – wadya fink?
Think of a jurisdiction with the most ineffective, pathetic and corrupt regulation – such as Gibraltar
Find an unlicensed scammer like James Hadley who will transfer lots of UK-resident victims into an offshore QROPS and invest their life savings in whatever crap will pay him the highest commissions
Sit back and rake in the profits
Forget fiduciary obligations or anything with the word "trust" in it – only concentrate on the word "trussed"
Play golf with the regulator
HOW TO BE A REGULATOR
Join a golf club (that isn't too picky about who it lets in)
Give licenses to as many scammers as possible – the more the merrier
Buy lots of blindfolds (to help turn a blind eye to scams and scammers)
Play lots of golf with the scammers and bent pension trustees who facilitate financial crime
When an advisory firm or a trustee firm gets caught scamming, slap a few people on the wrist with a wet fish
Write meaningless reports about robust compliance
HOW TO BE A SCAMMER
Find yourself a bent jurisdiction (such as Gibraltar)
Find a bent trustee who will accept business from any old unlicensed scammer (such as STD FIDEC)
Find a bent "umbrella" fund which will facilitate financial crime – such as Richard Reinert's Nascent Fund
Find a Ponzi scheme such as Dolphin Trust which will issue "loan notes" at 10% interest per annum (and up to 25% in introduction commission)
Transfer hundreds of UK residents to a Gibraltar QROPS scam
Get the trustee to agree to invest 100% of 100% of the victims' retirement savings in … your own fund!
See how easy it is to be either a trustee, a regulator or a scammer?  But, equally, remember how easy it is to be a victim!
Quite frankly, Gibraltar should be towed out to sea and sunk.  It is a disgrace to the British nation.  Just give it back to the Spanish and let them clean it up – they would soon kick the likes of STM Fidecs out and stop any further scams and scammers from operating on Spanish soil.  Soil being the operating word.
Rather than going on about how utterly disgusted I am with the Gibraltar regulator, I will leave it to the eloquent words of one of the STM Fidecs/Trafalgar Multi-Asset victims to put this sickening disgrace into perspective.
VICTIM: "I have been quietly simmering away but feel I have to release my anger having again read the response from GFSC.
Firstly, do Gibraltar FSC actually realise over 1,000 individuals and their families are affected by the Trafalgar fiasco, who will potentially all suffer negatively in many different ways during their retirement

years

?  On a personal level, I should have
known

 better but was caught out by cleverness at a weak moment in my life, but many others I have spoken to had no understanding at all of financial affairs and put all of their trust in the hands of STM and all connected parties due to their apparent convincing knowledge and lies – shocking!!!!!
Due to my own personal research, I know of several other financial institutions who were offered and were involved in discussions regarding Trafalgar.  But due to having correct procedures in place (unlike STM), they clearly "smelled a rat", and were far more "ROBUST" in their approach. The only rat STM smelled was some form of hopeful "Magic Money Tree" with no concern for its clients' wellbeing – apart from its own pound note signs.
As you already know I have previously discussed this matter with my local MP and with your permission would like to highlight again the manner in which Gibraltar FSC have dealt with and inadequately reacted to  STM's performance. STM's website highlights their glowing history and expertise, but at no point mentions their clearly poor basic audit and compliance mechanisms.
Hopefully, at some point in the future all the evil parties – including STM – in this matter are dragged through the courts, eventually embarrassed and humiliated by the press, and made to pay both financially and personally for their hideous crimes – I can only dream.
Still angry and in despair.
STM Fidecs/Trafalgar Multi Asset Fund Victim 
That victim may well have lost her entire life savings thanks to James Hadley and STM Fidecs.  I am sickened and disgusted with our own onshore regulator's pathetic failings: the FCA.  But, quite frankly, the Gibraltar FSC makes the FCA look like Superman with TWO pairs of pants on outside their tights!
Interestingly, Justin Caffrey – who used to run Harbour Pensions in Malta – told me a year or so ago that he had been approached by James Hadley who wanted to flog his toxic Trafalgar Multi Asset crap.
Caffrey claimed to have sent Hadley packing with a flea in his ear because he twigged straight away that Hadley was a no-good spiv.  However, he had no such ethics when he invested victims' pensions in Phillip Nunn's Blackmore Global crap.
But now STD FIDEC has bought Harbour and Caffrey has been given the heave-ho.  You couldn't make it up!