In many pension scams, we see the use of totally unsuitable, high-risk, for-professional-investor-only structured notes. These notes often offer the introducer high commissions. However, they are risky, fixed-term investments that often end in the loss of some – or even all – of the fund invested. Therefore, these types of investments are totally unsuitable for a pension fund. Firstly, let me explain what a structured note is,  and then we can go through structured notes – knowing the risks.

So what the hell are structured notes?  And why should retail investors say NO to them?
A structured note is an IOU from an investment bank that uses derivatives to create exposure to one or more investments. For example, you can have a structured note betting on the S&P 500 Price Index, the Emerging Market Price Index, or both. The combinations are almost limitless.
A pension fund is referred to as a retail investment, so it should be placed in a low to medium risk investment. Generally, structured notes are labeled high-risk, for professional investors only and, therefore, no pension fund should ever be invested into them.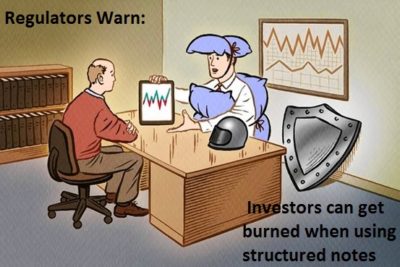 Structured notes are frequently peddled by less-scrupulous financial advisers – as well as outright scammers – as a "high-yield, low-risk", supposedly backdoor way to own stocks.  However, regulators have warned that investors can get burned – which they frequently do.  If the investment banks can flog it, they will make just about any toxic cocktail you can dream up.  In reality, a structured note is an unsecured debt issued by a bank or brokerage firm – and the amount of money the investor might (or might not) get back is pegged to the performance of stocks or broad market indexes. 
Say NO to structured notes for pensions!
With structured notes, there is no capital protection; no flexibility; no portfolio enhancement; no increased returns and no limit to the risk of loss of capital.
In the case of CWM, 1,000 people with 100 million pounds, were invested in structured notes and many of them lost large chunks of their funds. The CWM scam, headed by Darren Kirby, used structured notes with Commerzbank, Nomura, RBC and Leonteq, and many of the notes crashed.
John Rodgers fell victim to the CWM scam after being cold called by a salesman called Dean Stogsdill . His £202,000 pension pot was invested into high-risk, professional-investor-only structured notes referred to as "Blue Chip Notes". Today John's pension fund is worth just £60,000 (if he is lucky).
OMI  help facilitate the unqualified, unlicensed and unregulated CWM scammers – victims of this scam were also tied into a useless, pointless insurance bond for ten years – courtesy of OMI. Whilst the value of these pension funds steadily plummeted, OMI stood idly by and watched it happen.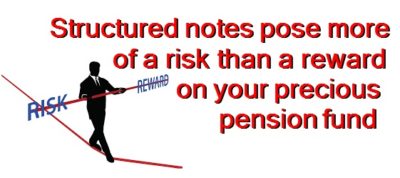 In the case of the Continental Wealth Management scam, the life offices – Old Mutual International, SEB and Generali, invested up to 1,000 victims' life savings in structured notes.  The majority of these toxic notes were from Commerzbank, Royal Bank of Canada, Nomura and Leonteq – some of which were, allegedly, fraudulent.  Victims are facing huge losses – and a few have had their retirement savings wiped out entirely and a couple are now in negative territory due to the parasitic life offices continuing to take their quarterly fees (based on the original investment) as the investors are trapped into these spurious "bonds" for up to ten years.
We are now fighting to get the investors' money back.  But meanwhile, we must stress: do not use an advisory firm that uses structured notes.  These toxic instruments are only for professional investors and should not EVER be used for ordinary, retail investors.