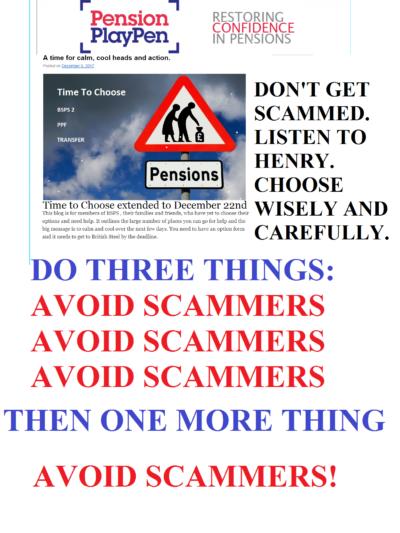 The BSPS dilemma for steelworkers is clearly difficult with very little time to consider options and make a wise decision which will affect them for the rest of their lives.
There's a whole team of willing voluntary professional advisers trying to provide some guidance to help people avoid making the wrong decision.  This team includes eminent pensions experts including Henry Tapper (The Pension Ploughman), Al Rush, Darren Cooke and many more.
I'd like to contribute to this excellent initiative to help the scheme members – but I can't advise how to do things right; I can only advise how not to do things wrong.
Henry Tapper, Al Rush and Darren Cooke – plus other qualified, licensed advisers generously giving their time to help the BSPS members – will give sound guidance as to the right decision to make.  The Pensions Advisory Service will also help.
Here are some pointers from me – someone who represents hundreds of victims of pensions scams and has seen all the tricks, lies, false promises and smoke/mirrors in the pension scamming business.
Check that a proper adviser is licensed – in other words: regulated.  You can check this out on the FCA register.  Here is an example: check out Darren Cooke's firm, Red Circle.  You will see that his firm is regulated (or licensed by the FCA – Financial Conduct Authority) to carry out personal pension and stakeholder pension advice.  Remember, unregulated means SNAKE OIL SALESMAN.  And beware the "introducer" – which is another word for snake oil salesman.  If you find the so-called adviser is not regulated – run like hell!
Beware "free" financial advice.  Go to Tesco and ask if they have any free milk.  Go to the Post Office and ask if there are any free stamps.  Go to an accountant and ask if he will do your accounts for free.  Go to your local car dealer and ask if there are any free cars.  There ain't no such thing as free.  Everything has to be paid for – but make sure that all the charges, fees, commissions etc., are openly declared.  If someone promises you free financial advice – run like hell!
Run a mile from "get rich quick" investment schemes.  Your pension has to be invested in boring, safe, traditional assets which will grow steadily and safely.  If you are offered something exciting and sexy – like eucalyptus plantations; car parks; football betting; overseas property "opportunities" and truffle trees – run like hell.  If you are told that your pension will get "guaranteed returns" of 8%, 10% or 12% – run like hell!
If you are told you can have some cash out of your pension other than your 25% tax free at age 55 – or the rest at the marginal tax rate – run like hell!
If you are cold called – run like hell!
Remember, you are a sitting duck – and it is open season.  Also remember, the good guys like Henry Tapper, Darren Cooke and Al Rush – as well as all the other decent, honourable, ethical advisers who are volunteering their time free to help you avoid the scammers – can give you some invaluable, generic guidance.  But someone who is offering to transfer your pension into another scheme is giving you advice.
So what is the difference between actual advice and general guidance?  Let us take the example of a medical practitioner: you know a doctor – say a GP –  at your local tennis club.  You are concerned about your health in general and the fact that you are putting on weight and get breathless going upstairs.  The doctor might suggest – as in suggest – that you consider going on a diet and taking some exercise, but that you also consult your GP.  That is an informal and friendly (as well as well-meaning and common sense) suggestion.  But it does not constitute formal advice.  A specialist would look for deeper issues such as blood pressure, signs of diabetes and any other underlying conditions to be investigated – and would prescribe specific treatment.
If all else fails, drop me an email and I will try to help: angiebrooks@pension-life.com – but meanwhile, please buy some good running shoes!
Meanwhile, take a look at just a few of the schemes for which Pension Life is representing groups of victims who have lost their life savings to the same – or very similar – scammers who will inevitably be targeting you now: