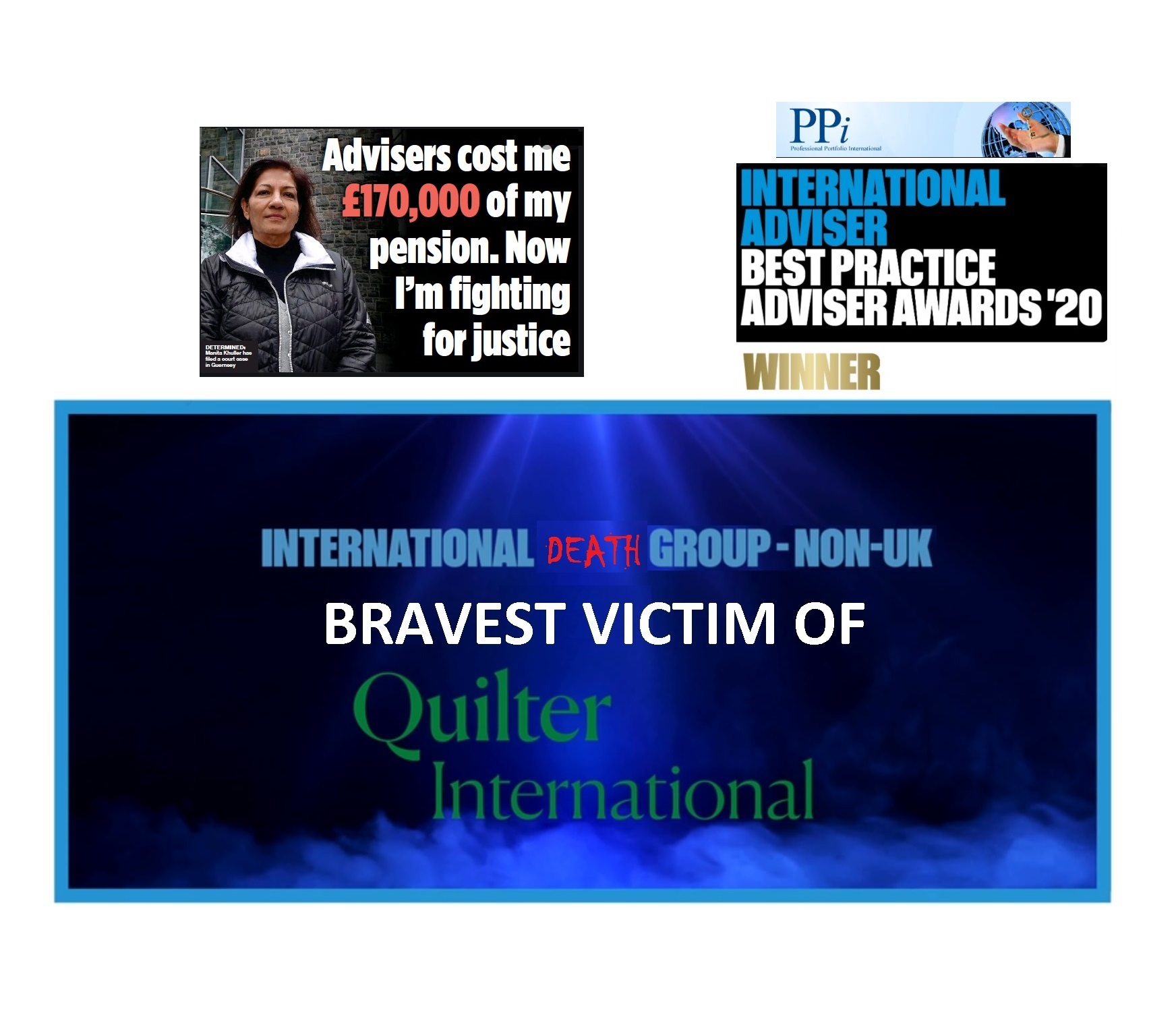 The recent awards given to Quilter Cheviot and Quilter International by International Adviser (sponsored by Quilter) must have sickened and disgusted many Quilter (OMI/Skandia) victims. Editor Kirsten Hastings' saccharine and gushing words of praise will have been seen as offensive in the extreme by the thousands of victims who have lost their pensions and life savings in Quilter International death bonds.
While there were, indeed, some very decent firms given well-deserved awards for excellent service and innovation, the prizes handed out to the sponsors of the event were just plain wrong. International Adviser Editor Kirsten Hastings should hang her head in profound shame. She knows full well how many people have been ruined by Quilter. She knows Quilter's victims are dying – and some have died. She is fully aware that many more are contemplating suicide and that most are facing a bleak Christmas and poverty for the rest of their lives. And yet she can still publicly praise a company which she is fully aware has facilitated investment fraud on a massive scale; congratulate them warmly, and smile broadly while cocking a coquettish nod at the distraught victims as she played canned applause.
I'm going to add an award which was conspicuous by its absence; an award for a brave and determined woman who stood up in the flaccid jurisdiction of Guernsey to a negligent pension trustee: FNB International. Home to many scams and scammers, Guernsey had for many years hosted pension scams – until eventually de-listed by HMRC. A well-known tax haven, Guernsey does have an ombudsman for financial services (albeit a weak and ineffective one) – but he refuses to hear any complaints about matters relating to the height of Guernsey's disgraceful past.
The heroine so who richly deserves a medal is Manita Khuller – victim of Quilter International, FNB International Trustees and Professional Portfolio International. Between them, these three negligent and culpable parties conspired to cause the destruction of her two final salary pensions worth £330,000 ($430,921/€386,574). The Guernsey Court denied Ms Khuller's original claim for restitution – and, at first, all seemed lost and it looked like the scammers were going to get away with it. But, unprepared to go down without a fight, Khuller sought an appeal based on the gross negligence of the unregulated adviser – Professional Portfolio International, which FNB had used while she was living in Thailand.
Roger Berry of Concept Trustees in Guernsey, commented on this: "The trustee sought to show that they could rely on the delegation to the adviser/manager to remove or qualify its duties as trustee and in any event, to be liable, the trustees had to be shown to have acted with gross negligence."
Mr. Berry spoke from significant first-hand experience – as he himself had been accepting investment instructions from AES International's Stephen Ward (of Premier Pension Solutions in Spain) in the high-risk and toxic EEA Life Settlements fund as far back as 2010.  So, he knows all about the catastrophic consequences of accepting business from known serial scammers into obviously unsuitable investments. Berry is also familiar with the art of gross and grotesque negligence.
Rather more eloquently, Henry Tapper covered the subject and asked some very pertinent questions about the Manita Khuller case:
How she lost two guaranteed DB pensions with strong employer covenants
Why PPI continues to operate throughout Asia under MD Eric Jordan
Why Old Mutual and Skandia (now Quilter International) have yet again been found wrapping dodgy investments
How a South African and now UK bank is owning  a Guernsey Trust in the first place
What Geoff Gavey, Alan Glen and co were doing at FNB international to claim "trusteeship".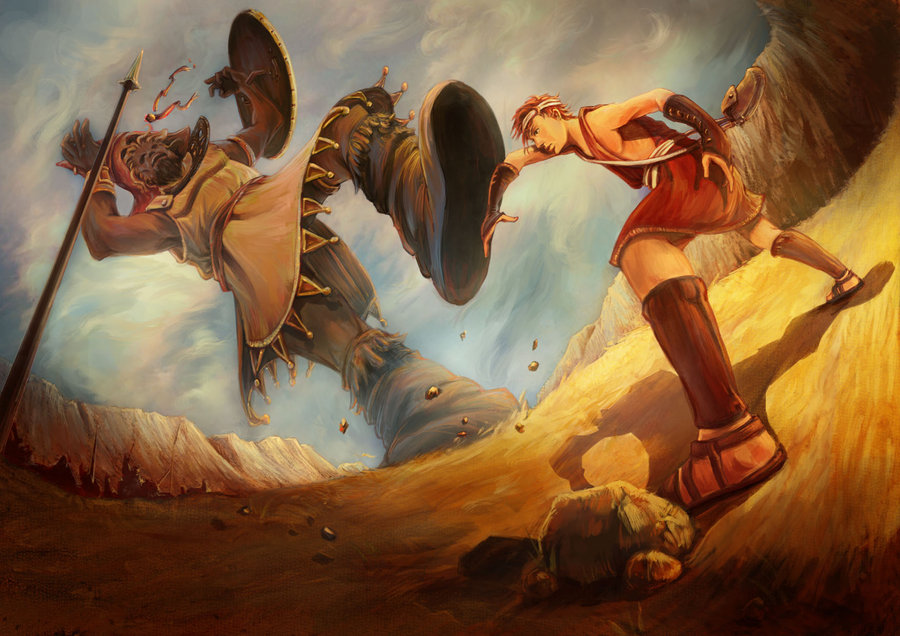 Perhaps, in years to come, people in the financial industry will discuss in hushed tones the epic and cautionary tale of Manita vs. Quilter.
But What has Quilter got to do with a Guernsey-based pension trustee who accepted unregulated investment advice into toxic, high-risk, unregulated funds – LM and Mansion Student Accommodation?"
The answer is, of course, EVERYTHING. A Quilter insurance bond should never have been used in a QROPS at all in the first place – and was only there in order to provide scammers posing as independent financial advisers with hefty, undisclosed commissions.
This case was about FNB International, the guilty QROPS trustee who facilitated this scam. But, of course, this firm did not act alone. As in all the thousands of similar cases, the main protagonists started with the rogue advisory firm and ended with the rogue life (or, rather, death) office – in this case Quilter International. But similar cases involving this type of pension investment fraud involve SEB, Generali, FPI and RL360.
Manita Khuller was advised to transfer her defined-benefit pensions by Professional Portfolio International, an unlicensed advisory firm based in Bangkok – where she was living at the time – into the Plaiderie QROPS. Of course, the reality was that her pensions should never have been transferred at all and would have been much better left where they were – safe in the hands of professionals and far away from the grubby paws of unlicensed scammers posing as financial advisers.
Then, going down the well-trodden path of traditional pension and investment scams, PPI put their victim's fund into a death bond for their undisclosed 7% or 8% commission, and then invested it entirely in high-risk, toxic, unregulated funds for further huge, undisclosed commissions. None of these three phases of the scam should ever happened: not the transfer out of her final salary pension scheme; not the purchase of the unnecessary, inflexible and expensive death bond; not the risky, inappropriate investments. But Quilter International facilitated it all – rewarding the scammers at PPI handsomely (as they do with so many unregulated scammers across the globe).
Professional Portfolio International – run by Eric Jordan and Colin Bloodworth – claim, on their website, to: "strive to help each client grow, protect and enjoy their wealth". But this, of course, is completely untrue. If they had their clients' interests at heart, they wouldn't have put Manita Khuller into a Quilter International bond in the first place; and they wouldn't have invested her precious pension in high risk toxic crap in the second place. Their only motivation was, of course, their own fat commissions.
Jordan and Bloodworth claim to have a "very knowledgeable and suitably qualified team of experienced advisers". But this is clearly untrue – as any qualified adviser would know that an insurance bond serves no purpose inside a pension wrapper and wouldn't be seen dead advising a valued client to invest in worthless rubbish such as LM and Mansion.
Jordan and Bloodworth's website goes on to boast that "PPI is able to deliver the highest level of progressive financial planning and wealth management services". And yet, it is clear this is not only a black lie, but that "planning and service" are the furthest things from their minds. The only things they care about, obviously, are fat commissions and conning victims like Manita Khuller out of their pensions and life savings.
So, Manita Khuller was failed and scammed by three parties:
Rogue advisory firm Professional Portfolio International in Bangkok – run by Eric Jordan in Thailand and Colin Bloodworth in Indonesia
Rogue QROPS trustee FNB International in Guernsey
Rogue death office Quilter International (previously Old Mutual International/Royal Skandia)
Manita Khuller – like thousands of other victims of Quilter International, QROPS trustees and unlicensed advisers – was a low-risk, retail investor – as is anyone investing a pension fund. But more than half of her pension – around £170,000 – was put into LM Managed Performance Fund, run by Australian-based LM Investment Management. This company is now in administration. Another big chunk was put into the Mansion Student Accommodation Fund which is now in liquidation.
The risk-laden, unregulated LM Managed Performance Fund invested in residential properties on the Gold Coast, with some IFAs outside of the company issuing warnings about its health as early as 2011 (it collapsed in 2013); affecting the finances of some four and a half thousand investors.
Almost a third of her money had been invested in the Mansion Student Accommodation fund, and due to the fund's liquidation her money had been frozen without her being able to access it at all. Speaking to This is Money, Manita commented:
"No one with a moderate or low tolerance to investment risk should have had their money put into such funds."
And that, in a nutshell, is the crux of the situation. Quilter are far too willing to give terms of business to unlicensed scammers – with no relevant qualifications or regulations in place to ensure their professional obligations are not compromised by greed, lies and disloyalty. Quilter have been doing this for years now – and have made a fortune out of the sales of their expensive, unnecessary death bonds. They have perpetuated the myth for years that firms with only an insurance license (or even no license at all) can "advise" on investments as long as they flog their victims a death bond and then "pick" from the toxic investments on the death bond provider's platform – obviously always choosing the investments that pay them the highest commissions (like LM and Mansion).
So here is the award that Kirsten Hastings of International Adviser should have given:
INTERNATIONAL CHALLENGER OF PENSION SCAMS
(especially those facilitated by Quilter International)
RELATED ARTICLES