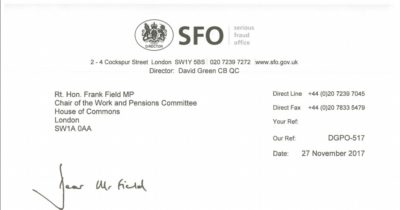 The Serious Fraud Office has written to Frank Field – Chairman of the Pensions Select Committee.  The SFO was responding to Frank's request for details about pension fraud cases prosecuted by the SFO and about the fraudsters' various scamming techniques.
It is obviously essential to recognise and understand these techniques so that police authorities, regulators, HMRC, the Insolvency Service and the government understand how these crimes work.  They need to know how the criminals think, plan, scheme and execute their crimes.  It is even more important to publish these details to educate and warn the public as to how to avoid becoming victim to existing and future scams.
The SFO reported two cases and described how they worked:
Sustainable Agroenergy (SAE) Plc,  investors were told their investments were in biofuel products, that land was owned in Cambodia and planted with Jatropha trees – a tree with highly toxic fruit that could be used to produce biofuel.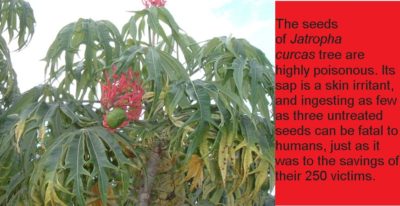 Investors were told there was an insurance policy in place to protect the investments if the crops failed. There was already documented research to show that the Jatropha tree,  was not as fruitful as originally thought.        Gary West, James Whale and Stuart Stone, were convicted of fraud and bribery offences and sentenced to a total of 28 years imprisonment. They were given confiscation orders totaling £1.36m – most of which has now been paid and distributed on a pro-rata basis to investors eligible for compensation.  Details of compensation.
In the Arck LLP case (not to be confused with the ARK pension liberation scam)  the fraudsters promised investments would be used for a scheme to develop holiday resorts in Cape Verde.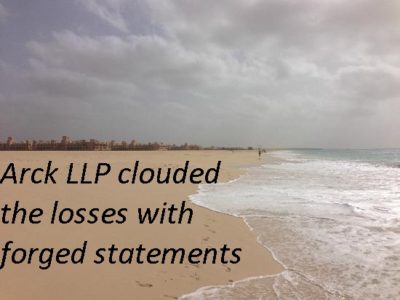 With assurances that the funds were in secure bank accounts which would not leave the UK, Arck LLP later forged statements to mislead investors about the losses.
Clay and Clark – the Arck fraudsters – pleaded guilty to charges of fraud and forgery. Clay was sentenced to 10 years and 10 months in prison, while Clark, was sentenced to two years in prison. Confiscation Orders of £344,244.07 and £178,522 were made against Clay and Clark respectively. To date, the SFO has recovered over £500,000 and is currently identifying potential victims for compensation.
The SFO is also conducting investigations into Capita Oak Pension and Henley Retirement Benefit Scheme, various Self-Invested Personal Pensions (SIPPS) as well as other storage pod investment schemes. This investigation also includes the Westminister Pension Scheme and the Trafalgar Multi Asset Fund.
It  is thought that over a thousand individual investors have been affected by this alleged fraud.
The amounts invested in these scams totals over £120m.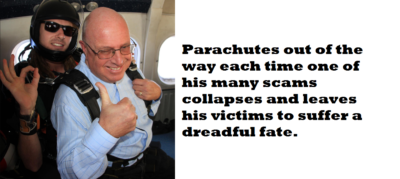 Around 300 victims of the Capita Oak scheme were given "Thurlstone" loans operated by scammer James Hadley. Now victims face crippling tax bills from HMRC as the loans are deemed to be unauthorised payments.
The Henley Retirement Benefit scheme is the sister scheme to Capita Oak.  Both schemes were administered by Stephen Ward of Premier Pension Solutions and Premier Pension transfers.
Westminister Pension Scheme: Stephen Ward AGAIN! 
Trafalgar Multi Asset Fund: hundreds of victims have been affected by this toxic, high risk UCIS fund (Unregulated Collective Investment Scheme) which is illegal to be promoted to UK residents.  All these victims were "advised" by unlicensed James Hadley to transfer into an STM Fidecs QROPS and then invest 100% of their funds in Trafalgar – his own fund.
How, you may be asking, are these people getting away with scam after scam? Especially Stephen Ward. His company, Premier Pension Solutions(PPS) has close connections with ARK, Evergreen Retirement Trust Qrops, CWM, Headforte, Southlands, London Quantum to name just a few. Ward is a clever "chameleon", hiding his past scams and reinventing himself each time with ever changing new skins.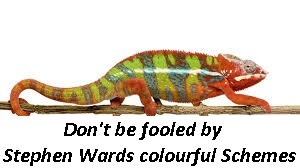 A common feature in a number of these frauds is the offer to investors of an unrealistically higher or secured rate of return.  Pension Life has many members who have suffered at the hands of not just the schemes listed above but also the repeat fraudsters operating them.
Some victims are facing more than a 73% LOSS! on their pension investments.                       Others are facing huge tax bills from HMRC.
Click here for more blogs by Pension Life on other groups involved.