Blackmore Bond – yet another reason why only regulated advisers should be used for investment advice.
The clear link between the recently-failed LCF Bond and Blackmore Bond through Surge Group remind us how important regulated investment advisers are.
I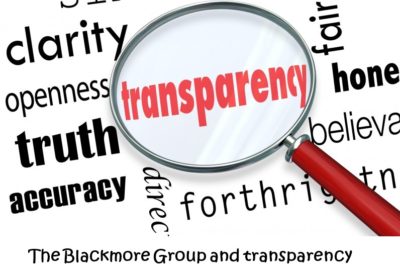 n the news again is the troubled Blackmore Group. This time we read that they have 'temporarily' closed their bond – the Blackmore Bond – to new business.  Just a few weeks ago, Blackmore Bond changed the wording of the sales material on this product.
This new transparency revealed costs of 20% and the high risks involved in the bond. Prior to this, these details were well hidden in the small print.
The Blackmore Bond transparency was not due to Blackmore Group having a yearning desire to be honest with their victims. It was all down to new FCA rules for being "clear, fair and not misleading" whenever an investment is promoted.
Recently, there has been a lot of media coverage on high-cost, high-risk bond investments failing. One of these is London Capital & Finance (LCF). This unregulated bond collapsed and went into administration earlier in 2019. £236 million had been invested into it.  But investors had not been warned of the costs and risks involved.  Of this £236 million, over £50 million was paid to Surge Group for promotional and marketing services.
1,200 victims duped into investing in the LCF bond
have lost at least 80% of their money
Fortunately for investors in the Blackmore Bond, it is still active. However, with such high promotional and marketing costs, the bond needs to be very successful indeed to overcome the initial 20% charges – most of which were paid to Surge.
In relation to the closure of their bond, Blackmore Group state on their website:
"We have achieved our fundraising goals for this tax year and are not currently taking in new investment.  We will be introducing our next offering in the following tax year, so please watch this space for future announcements."
Another questionable investment from the Blackmore Group is the Blackmore Global Fund.
The Blackmore Global Fund has been heavily criticised and also featured on BBC 4 You and Yours. The fund saw 1,000 victims conned into this expensive, illiquid and high-risk UCIS. It is illegal to promote UCIS funds to retail investors in the UK. They are certainly not suitable investments for a pension fund.
David Vilka of Square Mile International Financial Services was one of the promoters of the Blackmore Global Fund. Vilka invested many of his UK-resident clients into this unsuitable fund. Undoubtedly, he was paid fat commissions for these investments. Unregulated and unqualified, Vilka was no doubt lining his own pockets, instead of doing what was best for his clients.
Vilka lied to his clients, claiming to be fully regulated.  He transferred his UK-based victims' pensions into the Optimus Retirement Benefit Scheme No.1 QROPS.  Much of this money was invested into the Blackmore Global fund.
The connection between Blackmore Group's Bond and London Capital & Finance (LCF) is Surge – a marketing agent. The LCF bond was promoted by Surge until it collapsed in December 2018.
After LCF collapsed, Surge went on to promote the Blackmore Bond.  This promotion was done using ISA-rating websites.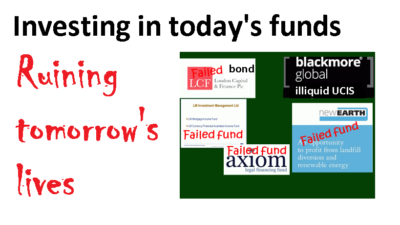 London Capital & Finance is not the only failed investment in recent years. Other failures include Axiom with £120m worth of investors' funds (£30m of which was with life offices FPI and OMI); LM £456m (£90m with FPI and OMI); and Premier New Earth (NERR) £207m (£62m with FPI and OMI).
The new transparency demanded by the FCA is much needed.
Unfortunately, it won't change the fact that well over one billion pounds have been lost between LCF, Axiom, LM and NERR. We are still left wondering why the regulators have not taken a tougher stance on restricting the promotion of such UCIS funds. The FCA's limp stance is especially worrying when the promoters of these high-risk bonds and funds are targeting UK retail investors.
All these failures and losses should remind both regulators and consumers that only regulated firms should be used for investment advice.