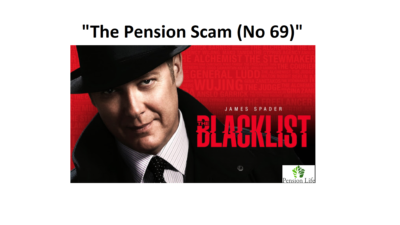 By far the best US crime thriller series (IMHO) on Netflix has got to be Blacklist.  Utterly mesmerising is the star Raymond Reddington (played by the superb James Spader).  Reddington manages to be simultaneously as camp as a row of tents, and macho as the All Blacks.
The rest of the cast – both cops and robbers – are all excellent with intriguing sub-plots, endearing romances and lots of buttock-clenching suspense as the FBI race against time to catch the bad guys, recover the sniffing/folding stuff and save the victims from torture and painful deaths.
So inspired was I by taking up Blacklist binge-watching, that I decided to write an episode to submit to NBC (just in case the writers run out of ideas).  My plot was hatched because every Blacklist episode contains all the ingredients that we need to tackle pension scams: the minute the crime (or intended crime) is identified, the FBI Special Agents swing into action, and SWAT teams are warmed up; the criminals' mobiles are tracked and their computers hacked.
By the time I've cracked open the Snickers, Special Agents Wrestler and Mossad are on the scene and closing in fast on the bad guys.  As I'm warming up my cocoa, the contraband has been uncovered; the bombs have been defused (with two seconds to spare); the bad guys are all either full of holes or in handcuffs; the full details of the dastardly criminal plot are laid bare.  Most important, the lost $millions are recovered in full, and the valiant Red Reddington flies off into the sunset in his private jet with his trusty Dembe clucking at him for taking too many risks.
So here's my humble attempt at the script for a Blacklist episode "The Pension Scam (No 69)" – script:
Arch pension criminal (and mastermind of the Capita Oak and Henley cases) James Hadley – dressed in bright purple (to offset his flaming red hair) and driving a black Ferrari – struts into the offices of various QROPS trustees around the Med and meets cheery Irishman Justin Caffrey of Harbour Pensions.  Hadley tells Caffrey of his plot to make millions out of scamming hundreds (or preferably thousands) of victims out of their pensions.  His plan is to con hundreds of UK residents into transferring their pensions into a QROPS.  And then (and this is the clever bit) Hadley, who is acting as the victims' financial adviser, invests all their money in his own fund: the Trafalgar Multi-Asset Fund.
Being a particularly canny Irishman, Caffrey sees straight through Hadley's dastardly plan and sends him and his (borrowed) Ferrari packing.  Caffrey clocks Hadley as an outright spiv straight away.  Caffrey is, anyway, already up to his ears in Phillip Nunn's Blackmore Global investment scam, promoted by vile David Vilka, so he really can't handle more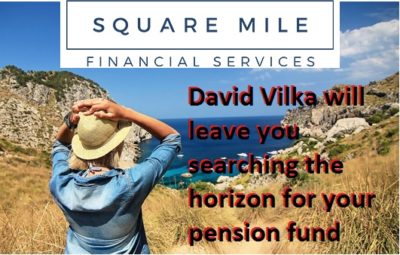 than one scam at a time (being male, he can't multi-task).
Way too thick-skinned, determined and greedy to be discouraged, Hadley heads across the Mediterranean to Gibraltar and the offices of STM Fidecs.  There he meets CEO Alan Kentish who listens to Hadley's offering with keen interest.  Already under investigation for "tax irregularities", Kentish is no stranger to "bending the rules" and is keen to learn more about how Hadley's scam is going to work – and, of course, what is in it for Kentish himself.
Hadley explains that he has found an "umbrella" fund called the Nascent Fund run by Custom House Global Fund Services and a handsome but menacing-looking chap called Richard Reinert.  This outwardly respectable-looking outfit allows wannabee fund "managers" (such as Hadley) to set up their own investment funds in the dodgy jurisdiction of the Cayman Islands – far from the eagle eye of the FCA.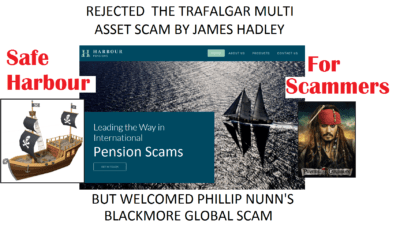 Kentish is eager to know how much money can be made out of this plot.  Hadley explains that 46% was earned out of his Capita Oak and Henley scams and that he hopes to make at least as much out of this one.  With Kentish's "help" (nudge nudge, wink wink).  Of course, the proceeds could be split and plenty of brown envelopes used to disguise the handing over of the proceeds.
Things get off to a cracking start, with Hadley's two trusted assistants: Tom Biggar and Paul Garner.  But cracks start to appear early on.  The success of the mission depends on the highest-risk assets being purchased with the funds – as these pay the highest "commissions".  But Biggar is a bad guy with a bit of a conscience, and he insists that some proper, prudent investments should also be made.  This, of course, impacts on Hadley's profits, so pretty soon Biggar "disappears" – never to be heard of again.  Garner is seriously rattled and doesn't want to end up the same way, so he heads off to work for the Gibraltar regulator – where he knows he'll be safe as houses, as they'll never take an interest in this crime.  After all, STM Fidecs is one of the biggest employers in Gibraltar (after Betfred, Stan James, Paddy Power, William Hill, Bet 365 and 888 Holdings) – so there's no risk of any of the perps doing porridge.
Hadley is now free to invest the whole fund (now well over £20 million) in whatever he pleases.  So he sticks most of it in the German Dolphin (derelict property loan notes) Fund and cleans up.  Trouble is, Richard Reinert of Custom House starts to get suspicious and starts sniffing around – after the worrying sudden disappearances of Biggar and Garner.  He lifts the skirts of Hadley's Trafalgar scam, and finds something rather more sinister than skid marks.
The FBI are a bit busy that day (yet another Blacklist case) so the SFO swings into action.  Hadley is arrested.  His office searched.  The Gibraltar FSC twitches because Hadley's third in command, Garner, is now working for them, so they turn a blind eye.  Avoiding embarrassment, they get friendly local book cookers Deloittes to pop in to inspect STM Fidecs' books.  When Deloittes find out what a load of crap the STM QROPS is filled with, they wag their fingers sternly.  Kentish is thoroughly upset (so much so, that he almost – but not quite – passes the fags round).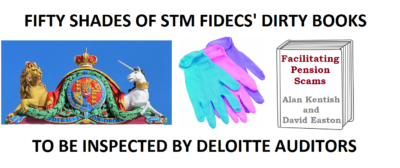 Now that the Trafalgar Multi-Asset Fund has been suspended – thanks to the hero of the hour: Reinert – Kentish decides to buy Caffrey's QROPS firm, Harbour (which is full of Phillip Nunn's Blackmore Global investment scam).  Caffrey swans off into the sunset with £1 million burning a hole in his pocket, quietly humming "Oh Danny Boy".
In the end, the handsome Reinert turns out to be a good guy after all, and gets some of the victims' money back.  (But only just enough to pay the liquidators' fees!)
I submitted my carefully-typed script to NBC and waited with bated breath.  A couple of weeks later their response arrived:
"Dear Miss Brooks, thank you for submitting your script for Blacklist episode "The Pension Scam (No 69)".  We have read your work with interest (and fell about laughing), but we do not feel it would be suitable for our series.  Unfortunately, the plot is too far fetched and we do not consider that our viewers would find the story-line plausible.  This sort of thing simply doesn't happen in real life.  However, we wish you all the best with your future writing efforts – but just suggest you try to stick to more believable plots."
Sadly, of course, it was real life.  As more than 400 victims will attest.  So no more script-writing for me.  I will stick to blogs in the future.