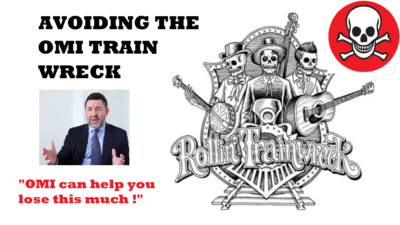 The problem with money is that it blows away if you don't hold it down, tie it up or stuff it down your knickers.  That's why you need to put it somewhere safe: in a shoe box on top of the wardrobe; under your mattress; in the safe or – if you're feeling really brave – in the bank.  Trouble is, left in cash, money shrinks (inflation, charges, moths).  This is why so many advisers recommend a platform – aka "somewhere safe" to keep your money.
So, let's look at two possible alternatives: the Novia Global platform and the Old Mutual International "bond".
I've met Bill Vasilieff who runs Novia Global.  He serves Earl Grey and nice biscuits.  A man of few words, and even fewer syllables, he gave me a quick rundown on how the Novia Global platform works – and how much it costs.
I haven't met Peter Kenny of Old Mutual International (OMI) – although I have spoken to him several times.  As broadly Irish as Bill is Scottish, Peter Kenny also comes across as a softly-spoken and sincere chap.  But there the similarity seems to end.  Peter stood me up – I got a view of his office waiting room but wasn't offered a cup of tea (let alone a biscuit).
Mind you, there isn't much I don't know about the Old Mutual International bonds.  I've seen thousands of their policyholders' statements – and they are frighteningly ugly and depressing.  They accurately, faithfully and unemotionally report the destruction of their victims' atrocious losses.  And OMI regularly (like clockwork!) take their quarterly fees – irrespective of how deep the destruction of the policyholders' funds is.  In fact, some victims even find themselves in negative figures as OMI continue to account for their fees long after the whole blooming lot has gone.
Anyway, back to Bill and his welcoming teapot….I can't really compare him to Pete but I can compare the two products.  So here is a brief and brutal side-by-side line up of what the two "platforms" offer.  And how much they cost.  And how difficult they are to get out of.  And how much financial crime they are associated with.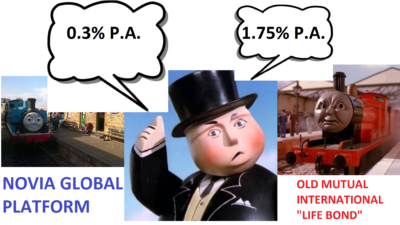 So the OMI "life bond" costs almost six times as much as the Novia Global platform.  But that is if you are locked in for five years.  You can get it cheaper – 1.15% – if you get locked in for ten years.  But you must remember that if you are scammed, then OMI will have paid the scammer an 8% commission and you could get stuck with paying the quarterly fees for the next ten years, even if you've figured out you've been scammed.  And the quarterly fees are based on your original investment – not on the impaired amount.  If you've been scammed, and your fund value drops inexorably, the 1.15% will become bigger and bigger.  And even if you lose your whole fund, OMI will keep taking their charges and pushing you further and further into debt.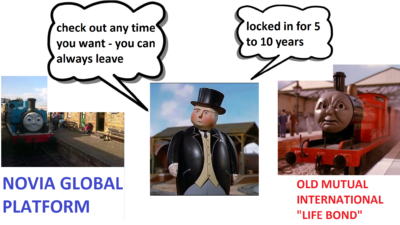 A bit like the lyrics to Hotel California, with an OMI "bond", you can't check out any time you want, and you can only leave after between five and ten years.  OMI will take that number of years to claw back the commission paid to your adviser – even if you have long since learned that your adviser was an unregulated scammer and has conned you into unsuitable, high-risk, high-commission investments that have badly damaged your fund.  You are stuck with paying the quarterly fees to OMI – even after your whole fund has gone.  One victim went from plus £300k to minus £25k – and counting.  As your funds inside the OMI bond shrink, the 1.15% grows and helps destroy what is left of your fund even faster.  But with the Novia Global platform, you can leave any time you want.  No exit penalties.  No hard feelings.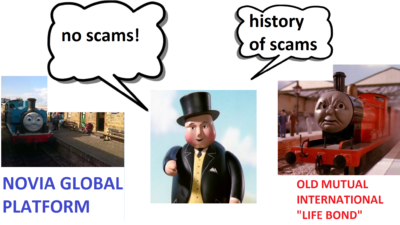 In Spain, the Supreme Court has ruled that bogus life assurance policies – such as those provided by Old Mutual International – used to hold investments are illegal.  This is because they are neither proper insurance policies (which take risk in the interests of the consumer) nor are they proper investment platforms.  The Spanish aren't stupid – they can spot a scam much more easily than other jurisdictions and take action to prevent them from ruining future victims.  This is in stark contrast to the likes of the Isle of Man and Gibraltar – which seem to revel in encouraging scams and protecting firms such as Old Mutual International (and STM Group) which facilitate financial crime on a massive scale.