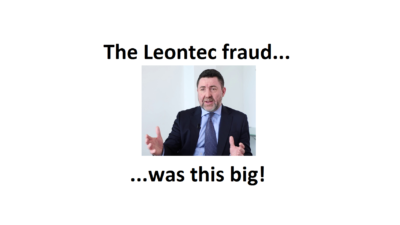 Old Mutual International filed a High Court application on 16th March 2018. 
On 20.3.18, Old Mutual obtained a judgment against Leonteq Securities, Eburacum Marketing and Alexander Robinson in the High Court of Justice of the Isle of Man (Case Reference 18/0012).  His Honour The Deemster Doyle, First Deemster and Clerk of the Rolls delivered his determination to OMI's lawyer, Elizabeth Simpson of Simcocks.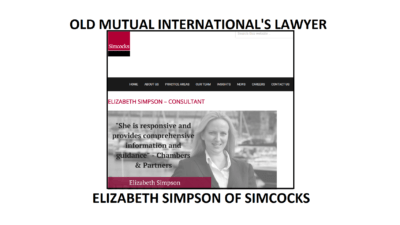 OMI's case is that they are the victims of a fraud perpetrated by Leonteq, Eburacum Marketing and Alexander Robinson – who held a senior position with Leonteq at the time.  Between 2012 and 2016, OMI invested approximately £94,000,000 in structured notes sold by Leonteq.  The purchase of these notes was "conducted" on the truthfulness of representations made by Leonteq as to the amount of fees and costs to be deducted from the investments.  OMI's case is that what Leonteq claimed was false and fraudulent.  Commission payments were made to Eburacum Marketing under the supervision of Alexander Robinson.  The investments performed poorly as a result of the excessive level of fees.  The losses are currently estimated to be £20,000,000 (although it is expected that this
will increase).
OMI's case against Leonteq, Eburacum and Robinson is on the basis of fraudulent misrepresentation, conspiracy, constructive trust, breach of fiduciary duty, knowing receipt, dishonest assistance and unjust enrichment.
OMI sought to have Eburacum's and Robinson's assets frozen – but not Leonteq's as it reckoned the company would not dissipate its assets in response to the claim.
Let us look in some detail at the above aspects of the case.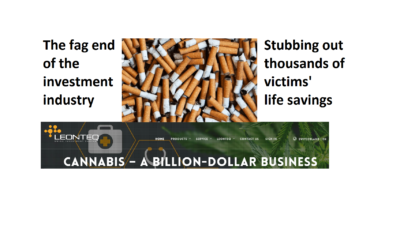 Leonteq Securities has gone from strength to strength since this fraud began – despite the disgrace of this criminal matter.  Their net profit in the first half of 2018 was declared as £30.73 million, and turnover £104.31 million – up 36% on the previous year.  My first question is: are they still selling ultra high-risk structured notes having learned from Alex Robinson how profitable they can be?  My second question is: what was the difference between the "ordinary" notes which paid 6% commission to the scammers, and the fraudulent notes which paid 8% to the scammers.  Were the latter 33% more risky?  Looking at the victims' statements, it is impossible to tell the difference between the 6% notes and the 8% ones.  There is no obvious higher failure rate – they just all look equally dire.
Right in the middle of Leonteq's fraud, it was announced in 2014 that two more salesmen were going to be added to the London branch – reporting to Alex Robinson.  Walter Treur and Anders Stromberg joined on 25/27 June 2014.  Treur was ex Commerzbank – another provider of toxic structured notes which also failed dismally and caused catastrophic losses to the Continental Wealth Management's victims – and Stromberg was ex JP Morgan and Credit Suisse (although he had been unemployed for some time).
Another Leonteq employee, Michael Hartweg, left his job as deputy chief executive to spend all his time flogging the new business of toxic structured notes.
So, it is clear that Leonteq was making a lot of money out of these products.  But, the question remains: was Leonteq complicit in Robinson's fraud – or were they blissfully ignorant and just grateful for the huge profits Robinson and his two new henchmen were pulling in?  I am no lawyer, but I suspect the answer is: "it makes no difference whether they knew or not – Leonteq was still culpable, whether they were actively and consciously misleading/defrauding OMI and other life offices or whether they were merely riding the lucrative tide of the proceeds of crime".
In my humble view, structured notes are like a lot of other products which – if properly sold and used – can, in some cases, be beneficial/useful/enjoyable/harmless, but – if irresponsibly or inappropriately sold – can be deadly.  Examples are: tobacco; alcohol; pornography; rat poison; fireworks; painkillers; kitchen knives; peanuts; plastic bags; cannabis.
Structured notes are "FOR PROFESSIONAL INVESTORS ONLY AND NOT FOR RETAIL DISTRIBUTION AND WARN OF DANGER OF LOSING PART OR ALL OF AN INVESTOR'S CAPITAL".
I wonder which bit of that Leonteq, Robinson, Treur and Stromberg failed to understand.  But, equally, I wonder which bit OMI failed to understand.  They bought £94 million quid's worth of the fraudulent 8% notes – how much of the 6% ones did they buy?  We know that a large chunk of these went to the Continental Wealth victims and caused devastating losses.  But that was just Leonteq – there was also Commerzbank, Royal Bank of Canada, Nomura and BNP Paribas.  And there wasn't just OMI – there was SEB and Generali doing the same thing.
But what of Eburacum Marketing?  This company was run by two directors: Philip and Adam Clarke.  The company is owned by Philip, Adam and Susan Clarke (presumably all related in some way).  According to the 2017 published accounts, the company is worth £53,000 – hardly likely that this will make a dent in the millions lost.
But what was Alexander Frederick Stuart Robinson's connection to Eburacum Marketing?  He was neither a director nor a shareholder.  And if, as OMI claims, commission payments were made to Eburacum Marketing, then why isn't this reflected in the Eburacum Companies House accounts?  There is something very wrong here – and hopefully a private prosecution against Robinson, Leonteq and Eburacum will reveal further details of this fraud.
Let's be honest, the whole thing was a fraud.  In the Continental Wealth Management case, CWM was a fraud; the Leonteq/Robinson structured notes were a fraud; all the other Leonteq structured notes were a fraud; all the other non-Leonteq structured notes were a fraud.  No party comes out of this with any honour.  But, at least OMI is taking legal action against Leonteq – which is more than can be said for SEB and Generali.  But, we must also bear in mind that OMI bought £94,000,000 of this toxic, fraudulent crap and allowed it to be used as investments for retail, low-risk pension savers.
And what about the people who work for Leonteq?  What are they doing about all this (apart from denying everything strenuously)?  Are they hanging their heads in shame?  Trying to make up for what Leonteq has done (and profited from handsomely)?  Between them, the directors and senior managers must earn millions, and yet not a single one of them has held their hand up and admitted to facilitating financial crime.  None of them has offered to pay redress to the victims.  At least, in that regard, OMI can hold the moral high ground since they have made such an offer.
The people at Leonteq who must hang their heads in shame for harbouring criminal Alex Robinson and allowing and profiting from financial crime include:
Lukas Ruflin – CEO; Marco Amato – Chief Financial Officer & Deputy CEO; Jochen Kühn – Head of Insurance & Wealth Planning Solutions; Manish Patnaik – Chief Operating Officer; Reto Quadroni – Chief Risk Officer; David Schmid – Head of Investment Solutions & Banking Solutions; Ingrid Silveri – General Counsel; Christopher M. Chambers – Chairman; Hans Isler – Vice-Chairman; Jörg Behrens; Paulo Brügger; Vince Chandler; Patrick de Figueiredo; Richard A. Laxer; Thomas R. Meier.
They are all equally culpable.  None of them should ever work in financial services again.  And Leonteq should volunteer to settle without a bloody legal battle – from which only the blood-sucking lawyers will win.  The millions that both Leonteq and OMI will be paying over the coming months and years would be better spent on paying redress to the real victims in this disgraceful debacle – the Continental Wealth Management clients who entrusted their life savings to the scammers, the life offices and the structured note providers such as Leonteq.
The key question remains: why should Leonteq settle with Old Mutual International?  There are the obvious reasons: decency; conscience; honour; public relations; reputation.  But perhaps the most important is that the Continental Wealth Management victims and I will make it our life's work to ensure that Robinson and the officers of Leonteq spend the rest of their lives behind bars.