In my weekly hunt for the next firm to feature in my ´qualified and registered?´ blog series, I came across an advisory company that caught my attention: The Imperius Group, run by a fella named Tim Blogg, who claims to have retrained 25 years ago to offer pension and investment advice to expats.
Regular followers of Pension Life blogs will know that my current mission is unearthing advisers who claim to be fully qualified but fail to show up on any official registers (CII, CISI, LIBF). If they do not show on any register, how do we know that the qualifications they claim to have were actually achieved? If these offshore advisers refuse to follow the guidelines, how can they be trusted? Furthermore, if they are not registered, then they should not be making claims to these qualifications.
The reason Tim Blogg´s company, The Imperius Group, flashed up on my red beacon radar was the fact that he listed his company in partnership with various life assurance offices including OMI (Old Mutual International) and Generali. Links to these companies, a well-read Pension Life blog follower will know, is not a good thing. They are also linked to RL360 and Hansard Global.
Tim Blogg also has a bright and shiny Dolphin Trust logo underneath the mug shot of him and a promise of:
"I could give you a 10% annual return on your investment through tried and tested plans – if you'd like to find out more click here to read more about one of our most lucrative investment opportunities."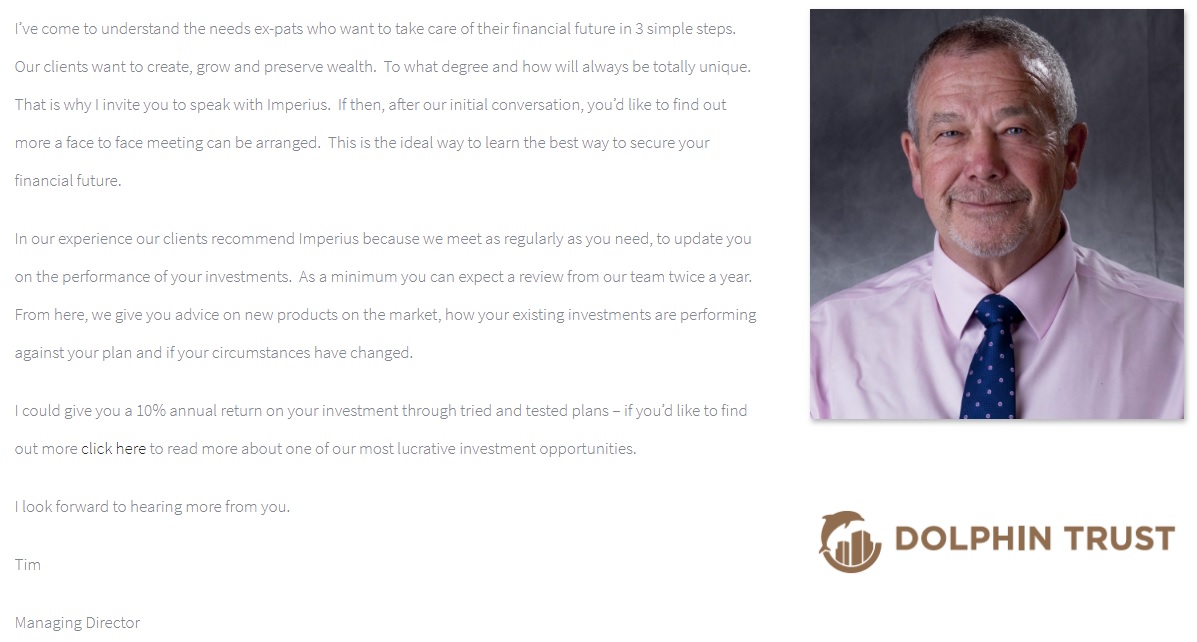 Tim Blogg offers "strong steps into German property investment", through Dolphin Trust (loan notes).
Ring any bells?
British Steelworkers were duped into investing their DB pension schemes into – yes, you´ve got it – into an unregulated fund: Dolphin Trust (in Germany).  Celtic Wealth Management acted as the introducers to this investment and Active Wealth – now collapsed – acted as the advisory company. This investment scam has left British Steelworkers trapped and at risk in this totally unsuitable, unregulated investment.
Dolphin Trust IS NOT regulated and there is no evidence to show The Imperius Group is either.
Tim Blogg, founder of The Imperius Group, DOES NOT APPEAR ON ANY REGISTER as a qualified and registered financial adviser.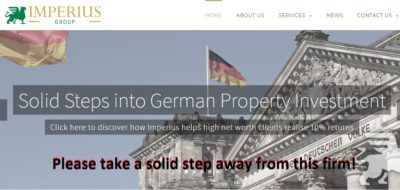 Aside from Tim Blogg, the only other person who claims to work for The Imperius Group is a lady called Emma Allen, listing herself as, ´Employed as a Personal Assistant by iBOS working for the Managing Director of The Imperius Group Limited.´ The Imperius Group website quotes the term ´us´ regularly, but from what I have found, it would seem this company is pretty much a one-man unqualified band.
Dolphin Trust has been used by an awful lot of pension and investment scammers – including Stephen Ward in the London Quantum pension scam (now in the hands of Dalriada Trustees).
Once again, I am left wringing my hands in despair at the state of the offshore financial sector and at purported financial advisers like Tim Blogg.
However, at least I will sleep soundly tonight knowing that another financial advisory firm has been outed. The Imperius Group and Dolphin Trust are not the company to trust with your precious pension fund.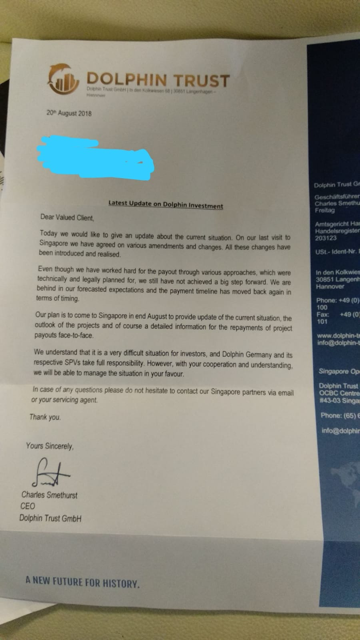 To demonstrate the serious concerns about investments in Dolphin Trust, this is a copy of a letter sent by Charles Smethurst CEO of Dolphin Trust to investors. It would seem that although some investments have reached their maturity, other investors are still waiting for their funds to be released. This raises questions about the liquidity of funds and also the possibility of Dolphin Trust going bankrupt. Maybe the victims will have a claim over the properties, if indeed the German properties they think they have invested in actually exist.