Ward's sidekick Anthony Salih – based at the notorious 31 Memorial Road, Worsley address – has been similarly banned.  The ban has been in relation to the London Quantum pension scam operated by the pair in 2014/15.
TPR has been neither coy nor shy in its published determination against Ward and Salih – and has openly called the London Quantum pension scheme, and the risky investments which Ward made, a "scam".
But to any reasonable person's mind, tPR's determination in relation to Ward and London Quantum raises more questions than it answers.  In fact, I would go even further and say that HMRC's and tPR's incompetence – as well as Dalriada Trustees' own failings – should be examined in parallel with Ward's multiple frauds.
Because, make no mistake, London Quantum was only one of many.
It all started long before the Ark Pensions scam.  Ward set out his stall transferring pensions to New Zealand and liberating 100% "tax free".  He boasted in the local Costa Blanca press that he had "helped" thousands of clients liberate their pensions (legally).  Of course, this may have been free of tax in New Zealand, but when the Spanish tax authorities catch up with these clients, there will be a very expensive disaster.
It is extremely worrying that IVCM – a "phoenix" of the Brooklands disaster – is also offering the same New Zealand liberation facility today.  It always worries me when firms fail to learn the lessons of past scams and expose unsuspecting victims to the same catastrophes that past scammers orchestrated.  Add to this the fact that IVCM is regulated out of Gibraltar – the jurisdiction of choice for scammers such as XXXX XXXX and STM Fidecs – and I think it is well worth giving IVCM a very wide berth.
Prior to 2010, Ward was a tied agent of Inter Alliance – a company based in Cyprus which had an insurance license.  For Inter Alliance in Cyprus, Ward successfully created the illusion that this gave his company Premier Pension Solutions some sort of license.  But, in reality, it did not – as the Cyprus license was only for Inter Alliance and not for any other entity.  Plus tied agents were (and still are) illegal in Spain.
As a sideline, Ward was flogging EEA Life Settlements as he had discovered the delights of making huge commissions out of dodgy, risky, illiquid investments to his unsuspecting victims.  In 2010, Ward was working closely with Concept Trustees in Guernsey – run by Roger Berry.  Initially happy to see Concept Trustees' QROPS members have 100% of their pensions invested by Ward in EEA, Berry eventually realised that Ward's firm was not regulated as it had been dumped by Inter Alliance.  Of course, even before it had been dumped, Premier Pension Solutions wasn't regulated anyway.  But Concept Trustees was too stupid to realise that.
Concept then wrote to all the members who were clients of Ward's Premier Pension Solutions and warned them that Ward's firm was neither regulated nor had any professional indemnity insurance cover.  Berry claimed he would not be accepting any further investment instructions from Ward, but this was basically just a load of hot air (aka lying) as he continued to accept investment instructions into EEA by Ward.
In September 2010, Premier Pension Solutions was appointed as a tied agent of AES International – a firm based in London and Dubai.  The agency agreement covered PPS for investment and insurance business – but not pension transfer business.  Ward's PPS letterheaded paper claimed that it was a "partner" of AES and that it was regulated by the DGS (Spanish insurance regulator) and CNMV (Spanish investment regulator).  PPS also became a member of FEIFA – the Federation of European Independent Financial Advisers (although he was later dumped by them).  You can understand why so many victims thought that PPS was a bona fide advisory firm.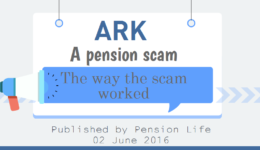 Then came the first of Ward's major pension scams: Ark.  It is worth looking at the history of Ark because this sets the scene for how nearly 500 victims came to lose their pensions and face tax liabilities – as well as the dozens of further scams operated by Ward (including London Quantum).
A famous footballer and his mate – a football club owner – bought a plot of land in Larnaca in Cyprus with a view to turning it into a golf resort.  They paid £1.1 million for the property, but then realised it wasn't big enough for a whole golf course (neither of them was bright enough to be able to count up to 18) and so they tried to find some other investors.  The chumps they tried to con into buying more land adjacent to the original plot either couldn't come up with the money or were frightened off such a high-risk, illiquid investment.
So the sporty pair went to see the footballer's accountant – Andrew Isles of Isles and Storer (now owned by LB Group).  Isles soothed the sporty pair's worries by telling them that securing more investors was simple: just start a pension fund!  He introduced them to what he called "two leading pension experts": Craig Tweedley and Stephen Ward.  Tweedley was already operating the KJK Investments/G Loans pension liberation scam (later to be placed in the hands of Dalriada Trustees by the Pensions Regulator) and Ward was a highly-qualified pensions expert, examiner and author.
The rest is history as nearly 500 victims lost their pensions to the Ark scam.  But the sporty pair did very nicely – they sold the land in Cyprus to the Ark scheme for £4 million and pocketed the profit.  The footballer tried to hide the money in Dubai but got caught and turned Queens Evidence.  He and the other original investor (the football club owner) fell out and they ended up in court against each other – with the footballer triumphing.  Andrew Isles also did very nicely as he sold introductions to a number of his clients and earned fat commissions in doing so.
As Ark unfolded – between mid 2010 and mid 2011 – Ward initially acted as an introducer.  There were various introducers – many recruited by Ward when he ran a series of seminars in various parts of the UK.  But Ward himself was the biggest introducer – accounting for more than a third of the whole £27 million fund and earning approaching three quarters of a million pounds in fees (the Pensions Regulator's report of £350k was way off the mark).
Ward and his sidekick – bent lawyer Alan Fowler of Stevens and Bolton Solicitors – acted as the controlling minds behind Ark.  The scheme documentation and the "loan" contracts were drawn up and explained by Ward and Fowler.  Of the 5% commission charged by Craig Tweedley, Ward got at least 2% plus a transfer fee.  But Ward had his eye on a much bigger proportion of the fees.  Towards the end of the life of Ark, Ward was preparing to take Ark over from Tweedley – along with an associate of his: Peter Moat (another pension crook who went on to operate the Fast Pensions scam – now also in the hands of Dalriada Trustees).  In a way, it was a shame that didn't happen, as Tweedley did at least try to help the Ark victims, whereas Ward never lifted a finger.  In fact, he simply told the Ark victims to throw the tax demands away as "HMRC would never pursue them".
In February 2011, HMRC met with Tweedley and Ward to discuss the "loans" – so HMRC knew perfectly well that Ward was the main brain behind the scam.  It is, therefore, astonishing that they did nothing to stop him operating so many further pension scams.
Ark came to a shuddering halt on 31st May 2011, when tPR appointed Dalriada Trustees and the scheme was suspended.  Dalriada went up to Yorkshire to confront Crag Tweedley and relieve him of all the evidence and files relating to the scam.  Tweedley told Dalriada that all the records were held down at Ward's Manchester office at 31, Memorial Road and he drove down to collect them from Anthony Salih.  He arrived to find Salih removing all the Premier Pension Solutions fee agreements on the instructions of Ward (he managed to shred most of them – but did missed a few which I now have).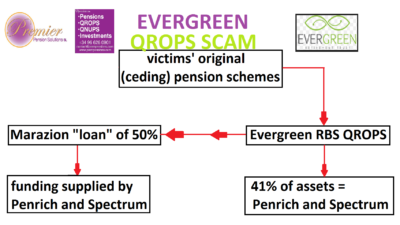 After Ark, Ward went on to run the Evergreen Retirement Benefits QROPS scam with accompanying 50% "loans" and a further 300 victims lost £10 million worth of pensions.  HMRC removed Evergreen from the QROPS list when they realised it was a liberation scam and Ward fell back on two more UK-based, bogus occupational schemes: Southlands and Headforte.  Plus, he registered a number of new schemes – including Capita Oak.
The Capita Oak scheme was another bogus occupational scheme registered by Ward with a fictitious sponsoring employer: RP Medplant (Cyprus).  There is, however, a firm called RP Med Plant in Cyprus.  The Capita Oak trust deed was written by Ward's bent lawyer Alan Fowler.  Ward took responsibility for the transfer administration – transferring valuable personal and final salary occupational pensions into this scam – in the full knowledge that he was condemning hundreds of victims to certain financial ruin and poverty in retirement.  Capita Oak is now also in the hands of Dalriada Trustees.
Other pension scams that Ward was operating – in addition to Southlands and Headforte – from 2012 onwards included Feldspar, Hammerley, Meribel,  Halkin, Randwick, Bollington Wood and Westminster.  And, of course, Dorrixo Alliance which was the trustee for many of these scams.  Capita Oak and Westminster are both under investigation by the Serious Fraud Office.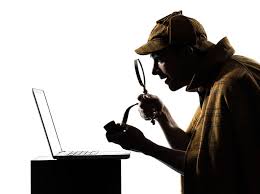 In May 2014, HMRC was given evidence of all of Ward's various scams – including Dorrixo Alliance.  They were also given detailed testimony by me and a number of victims of what Ward had been up to in the pension liberation fraud industry since Ark.  It would have been very easy for HMRC to look up to see what other pension schemes Dorrixo was trustee to.  Had they done this, they would have seen that Dorrixo was the trustee for the London Quantum scheme.  If HMRC had taken any action, they could have prevented Mr. N – a serving police officer – and 96 other victims from losing their pensions to Ward and his various dodgy, inappropriate investments (including loans to Dolphin Trust).
If we add to the above catalogue of scams the Continental Wealth Management scam – 1,000 victims facing the loss of £100 million worth of life savings – Ward has been responsible for the destruction of thousands of people's pensions this past eight years.  Plus several suicides and deaths from stress-related medical conditions.
SERIOUS QUESTIONS ARISING FROM THE PENSIONS REGULATOR'S DETERMINATION RE:
Mr Stephen Alexander Ward – The Pensions Regulator case ref: C46205159
Ward was a director of Dorrixo from 13 October 2011 to 28 April 2015. A company called Quantum Investment Management Solutions LLP ("QIMS") has at all material times been the sole sponsoring employer of the Scheme. Dorrixo became the sole trustee of the Scheme on 19 April 2014. Dorrixo is also recorded as being the Scheme administrator.
HMRC AND TPR WERE GIVEN EVIDENCE OF WARD'S COMPANY, DORRIXO, IN MAY 2014.  THEY WERE ALSO GIVEN EVIDENCE OF A LARGE NUMBER OF SCAMS WARD OPERATED AFTER ARK – ALL INVOLVING LIBERATION FRAUD.  WHY WASN'T ACTION TAKEN TO PREVENT LONDON QUANTUM?  ALL 97 VICTIMS – INCLUDING A SERVING POLICE OFFICER – COULD HAVE BEEN PREVENTED.
On 18 June 2015 the Regulator appointed Dalriada Trustees Limited ("Dalriada") as an independent trustee to the Scheme, with exclusive powers.
HAS ONE SINGLE PENNY EVER BEEN RETURNED TO ANY OF THE PENSION SCAMS PLACED IN THE HANDS OF DALRIADA TRUSTEES?  THERE ARE DOZENS OF THEM, AND FEW – IF ANY – OTHER INDEPENDENT TRUSTEES ARE EVER APPOINTED BY TPR.  BUT THERE SEEMS TO BE NO RECORD OF ONE SINGLE MEMBER EVER GETTING ANY RETURN FROM ANY OF THE SCHEMES IN THE PAST EIGHT YEARS – DESPITE THE MANY MILLIONS DALRIADA HAVE PAID THEMSELVES FROM THESE SCHEMES.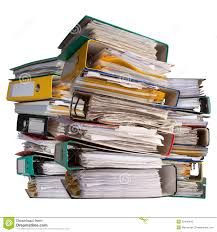 Following its appointment Dalriada discovered that there were approximately 609 files on record relating to potential new members, each at various stages of progression towards becoming a new member.
AS THIS EVIDENCES THAT THIS SCAM COULD EASILY HAVE DWARFED ARK IN A VERY SHORT SPACE OF TIME, DON'T HMRC AND TPR RECOGNISE THAT THEIR LAZINESS AND NEGLIGENCE NEED TO BE ADDRESSED?  THEY LEARNED NOTHING FROM ARK – AND WHILE THERE ARE VALID CRITICISMS OF WARD FOR HAVING LEARNED NOTHING, HE IS JUST A COMMON SPIV WHILE HMRC AND TPR ARE SUPPOSED TO BE GOVERNMENT DEPARTMENTS WITH A RESPONSIBILITY TO PROTECT THE PUBLIC.  THE SCALE OF THIS SCAM SHOWS THESE TWO ORGANISATIONS ARE NOTHING BUT HOPELESSLY INEPT AND AMATEURISH IN THEIR APPROACH TO DILIGENCE AND PUBLIC RESPONSIBILITY.
The Scheme was promoted to potential new members by introducers. These included the following entities: GoBMV; Baird Dunbar; What Partnership; the Resort Group PLC; Friendly Investments; Premier Mark Consultants and Quantum Wealth Management Solutions Limited.
THE DANGERS OF THE SCOURGE OF "INTRODUCERS" SHOULD HAVE BEEN LEARNED FROM THE ARK SCAM IN 2011.  WARD RECRUITED DOZENS OF THEM ALL OVER THE COUNTRY.  AND YET NONE OF THEM HAS EVER BEEN BROUGHT TO JUSTICE FOR THEIR PART IN ARK, AND HAVE GONE ON TO OPERATE AS INTRODUCERS AND EVEN HOLD KEY CENTRAL ROLES IN LATER SCAMS.  THIS INCLUDES FRIENDLY INVESTMENTS AND JULIAN HANSON – WHOSE SCHEMES ARE NOW ALSO IN THE HANDS OF DALRIADA TRUSTEES.
Gerard was responsible for producing template risk letters, member application forms, pro forma declarations stating that the person signing them was a self-certified sophisticated investor, member booklets and the statement of investment principles (of which there were four versions). Gerard sent these documents to members once they had been introduced to the Scheme by an introducer.
GERARD ASSOCIATES, RUN BY GARY BARLOW, HAD ACTED AS AN INTRODUCER TO WARD IN THE ARK SCAM.  AND YET HE WAS LEFT FREE TO OPERATE IN THE SAME CAPACITY IN THE LONDON QUANTUM SCAM – AND EVEN TAKE ON A MORE CENTRAL ROLE.  GERARD ASSOCIATES WAS AT THE TIME AN FCA-REGULATED FIRM – AND REMAINS SO TO THIS DAY.  THE FCA HAS TAKEN NO ACTION TO REMOVE THIS FIRM OR TAKE ANY ACTION AGAINST GARY BARLOW.
GERARD ASSOCIATES' GARY BARLOW WAS PAID £253,000 FROM THE LONDON QUANTUM SCHEME FOR DEFRAUDING VICTIMS INTO SIGNING AGREEMENTS THAT THEY WERE "SOPHISTICATED" INVESTORS.  SO WHY HASN'T BARLOW BEEN PROSECUTED AND JAILED – AND MADE TO PAY THIS MONEY BACK TO THE VICTIMS?
A material number of the new members had a low or medium appetite for investment risk and, in any event, were unaware that the Scheme's investments were high-risk investments. The Panel was troubled by the apparent disconnect between members' appetite for risk and the high risk nature of the investments made by Dorrixo. Mr Ward accepted that the Scheme's investments were high risk, but claimed this was made clear to new members in the Member Booklet.
I DON'T KNOW WHAT SORT OF DRUNKEN DUMMIES MADE UP TPR'S "PANEL", BUT DID THEY SERIOUSLY THINK THAT ANY PENSION FUNDS SHOULD EVER INVEST IN HIGH-RISK CRAP?  INDIVIDUAL MEMBERS' APPETITE FOR INVESTMENT RISK IS IRRELEVANT – THIS WAS A PENSION FUND, NOT A CASINO.
The case against Ward was based on failures of competence and capability, and also a lack of honesty and integrity as well as Ward's involvement with "pension liberation" as an introducer of members to the "Ark" schemes.
BUT TPR AND HMRC KNEW ALL ABOUT THIS BACK IN 2010 AND 2011.  WHY DID THEY DO NOTHING TO PREVENT WARD FROM SCAMMING MORE VICTIMS OUT OF MORE MILLIONS OF POUNDS.  THEY STOOD BACK AND WATCHED – DESPITE HAVING HARD EVIDENCE THAT HE WAS STILL UP TO HIS CRIMINAL MISCHIEF.
Mr Ward did not dispute that a company of his (Premier Pensions Solutions SL) was involved in introducing members to the Ark Schemes, but states that the relevant activity pre-dated any finding by the courts of pensions liberation and that Mr Ward had no knowledge that the schemes were being used for such activity.
BUT HMRC, TPR AND DALRIADA ALL KNOW THIS ISN'T TRUE.  THEY HAVE ALL SEEN EVIDENCE THAT WARD AND HIS BENT LAWYER ALAN FOWLER ACTUALLY PRODUCED THE "LOAN" (MPVA) DOCUMENTATION AND EXPLAINED THE LOANS IN SOME CONSIDERABLE DETAIL TO THE VICTIMS.  THE MPVA CONTRACTS WERE DRAWN UP BY FOWLER.  IS IT REALLY CREDIBLE THAT NEITHER HMRC NOR TPR WOULD HAVE OBJECTED TO THIS STATEMENT?
The Panel did not consider there was sufficient evidence of Ward having actual knowledge of, or turning a blind eye to, the illegal nature of the activity of the Ark Schemes when carrying out his role as introducer before.
SERIOUSLY?  I HAVE GIVEN EVIDENCE OF THIS TO BOTH HMRC AND TPR ON MANY OCCASIONS.  THIS HAS BEEN DISCUSSED AT MEETINGS WITH DALRIADA TRUSTEES ON MANY OCCASIONS.  EVIDENCE OF THIS HAS BEEN GIVEN TO THE SERIOUS FRAUD OFFICE ON MANY OCCASIONS BY VARIOUS VICTIMS AND ME.  WHAT FURTHER EVIDENCE DID THE PANEL WANT?  EVERY ARK MEMBER'S FILE WAS FULL OF SUCH EVIDENCE.  EITHER TPR IS LYING OR IT IS INCOMPETENT.  OR BOTH.
The Case Team also relied on certain alleged failures in relation to other pension schemes (called Headforte and Halkin), of which Mr Ward was a trustee. These are denied by him (e.g. an allegation of failure to appoint an auditor to those schemes) and the Panel did not consider it necessary to make findings in respect of them.
SO WHAT ACTION HAS TPR TAKEN IN RELATION TO HEADFORTE AND HALKIN?  BOTH WERE BEING USED FOR PENSION LIBERATION FRAUD BY WARD – AND YET THE VICTIMS PROBABLY STILL HAVE NO IDEA WHAT HAS HAPPENED TO THEIR MONEY.  IT IS ABSOLUTELY ASTONISHING THAT NO ACTION HAS BEEN TAKEN IN RELATION TO THESE TWO SCHEMES, PLUS ALL THE OTHERS WARD HAS BEEN OPERATING OVER THE YEARS.
Stephen Alexander Ward (date of birth 11 July 1955) is hereby prohibited from being a trustee of trust schemes in general. This order has the effect of removing the above-named individual from all or any schemes of which he is a trustee. By section 6 of the Pensions Act 1995, any person who purports to act as a trustee of a trust scheme whilst prohibited under section 3 is guilty of an offence and liable (a) on summary conviction to a fine not exceeding the statutory maximum, and (b) on conviction on indictment to a fine or imprisonment or both.
SO, WARD CAN STILL OPERATE AS A PENSIONS ADMINISTRATOR?  CAN STILL DO PENSION TRANSFERS?  HE IS BASICALLY FREE TO CARRY ON AS BEFORE.  THIS MAKES HMRC AND TPR COMPLICIT IN WARD'S MANY CRIMES.
THIS IS NOT JUST THE DEATH OF TRUST, BUT OF ANY CONFIDENCE IN THE GOVERNMENT, REGULATORS AND CRIME PREVENTION AGENCIES TO PREVENT OR DEAL WITH PENSION SCAMS AND SCAMMERS.