Integrated Capabilities – a Trust Company based in Malta have created their own Pension Scheme – Azure Pensions. On the face of it, however, the management team do not appear to have learned anything from their previous experience with Optimus Retirement Benefit Scheme No.1 and their association with David Vilka of Square Mile International Financial.  It appears they have now teamed up with some very dubious friends – the result of which is very likely to create more victims of UK pension scams.
I AM GRATEFUL TO STEVE – ONE OF THE BLACKMORE GLOBAL/DAVID VILKA VICTIMS – FOR RE-WRITING THIS BLOG AT THE REQUEST OF INTEGRATED CAPABILITIES' LAWYER.
The Azure website states: "We believe that trust is built and earned. As such we have an ingrained and sustained desire to develop long-term relationships with our clients". These are just words and words are easy. It's what you do that counts.
In 2015, the Optimus scheme started out with 26 members and by the end finished up with 1,176 – that's a gain of almost 100 new members per month! I was one such member conned into transferring my pension by fraudulent misrepresentations made by David Vilka of Square Mile Financial Services.
My pension was inappropriately invested in unregulated collective investment schemes, wrapped in a useless life assurance bond from Investors Trust (based in the Caymans). One of those funds was Blackmore Global run by Phillip Nunn & Patrick McCreesh. This pair is on record for earning almost £1m generating leads for the Capita Oak and Henley scams.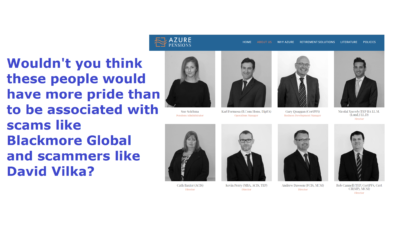 This new pension arrangement locked me in for 10 years – definitely a "long-term relationship" – giving all parties the opportunity to drain my pension dry in fees. Credit where credit is due, however. Once I discovered I was in a scam, the director Andy Dawson (bottom row, 3rd from the left) did make an extraordinary effort not only to redeem the investments but successfully persuaded most parties to waive their early exit penalties and refund their fees. Only the greedy Symphony Fund chose to keep the penalties and that's after mysteriously dropping in value 30% just before redemption. Thanks to Andy Dawson and his team, I did manage to get back 92% of my pension. But the BIG QUESTION is what has happened to the other 1,100+ members? It is inconceivable I was the only one transferred into this scheme via Vilka et al.
Another claim made by Azure Pensions is: "Our people are highly experienced, knowledgeable and motivated to do their utmost to ensure that they deliver a superior, professional and hassle-free service."  But this firm, and the people in it, have a history of working with scammers and investing members' retirement funds in investment scams such as Phillip Nunn's Blackmore Global and Richard Reinert's Symphony Fund. So I would take issue with claims like "highly experienced" and "knowledgeable".
If they were highly experienced and knowledgeable they would have known that, at the time I was being advised by Vilka in January 2015, Aktiva Wealth Management (later changed to Square Mile and now called Michalska Holding) was NOT regulated by the Czech National Bank. According to the CNB records, this didn't happen until 5th May 2015 and then, only for insurance mediation and not for transferring pensions!
If Integrated Capabilities had been "highly experienced and knowledgeable" then they would have known the Symphony Fund – regulated in their own jurisdiction by their own regulator, the MFSA – was NOT permitted to be offered to me, a retail client. And they knew this because they had the Symphony documentation which clearly prohibited its promotion to UK retail clients.
I complained to the MFSA but they didn't care and Malta's "Ombudsman" equivalent – what they call the Office of the Arbiter for Financial Services – deters complaints because they have this small print that says if you lose, the other side can be awarded legal costs! 
If Integrated Capabilities had been "highly experienced and knowledgeable" they would have known the Blackmore Global fund had never published audited accounts and still hasn't to this day (December 2018).  Something that in January 2015 caused Kreston (pension provider on the Isle of Man) to write to its members explaining their concerns over Blackmore Global and also stopped taking new members from Vilka.
So if they were "highly experienced and knowledgeable" then why did they allow all this to happen? It certainly had nothing to do with "motivation to do their utmost". It is clear their only motivation was to take on as many members as possible – irrespective of which scammer introduced them and what unsuitable investments were made for them.  Also, they claim to have a "long history and proven track record of providing expert and value for money multi-jurisdictional fiduciary solutions, so our clients and partners can have great peace of mind in the knowledge that our board of directors has over 100 years combined expertise in this field."  The proven track record is that they have taken on hundreds of new members per month from a known scammer – and the last thing their members have is peace of mind – far from it.
Angie has referred to these people at Integrated Capabilities/Azure Pensions as a "bunch of cowboys" and their lawyer recently wrote to her and objected to the phrase. You make your own mind up.
How do they earn trust when they have accepted transfers and investment instructions from known unregulated scammers Square Mile and David Vilka?  Why would victims "desire" to have a long-term relationship with Azure when funds were previously placed in an unnecessary, expensive insurance bond by Investors Trust in the Cayman Islands (the only purpose for which is to pay commission to the scammers)?
Azure Pensions also claims that one of its partners is Carey Pensions UK LLC.  Carey is facing a legal battle for investing a member into unregulated collectives in Australia through a Carey Pensions SIPP.
Carey is in hot water for allowing investments into high-risk scams, and is also now part of STM – undoubtedly the biggest scammers in the offshore pension trust industry.  It would seem the Azure team have not learned anything from their previous experience.
If, as they say "We believe that trust is built and earned …", then you actually have to do some "trust building" with actions – not just weasel words.  The indisputable facts seem to indicate "business as usual" but with a different name.
It is highly probable that Integrated Capabilities still has at least 1,100 victims invested in scam funds such as Blackmore Global by scammers such as David Vilka of Square Mile.  It looks like most – if not all – of these victims were UK residents who should never have gone into a QROPS at all in the first place.  The only reason for transferring these pension funds to a QROPS was to get the money away from UK regulation so that the scammers could invest them in commission-paying UCIS funds – such as Blackmore Global.
The public should be very wary of Azure in the first instance, do a lot of due diligence and make sure their pension funds don't go anywhere near offshore unregulated collectives wrapped in an assurance bond that can suck your pension dry.
Azure states on their website that: "Notwithstanding your appointment of a Financial Adviser, ICML has an overriding right to refuse to make investments, or to disinvest, where it believes that a particular investment proposal may not be consistent with the Scheme's Investment Policy or any investment restriction applicable under Retirement Scheme Law." 
Is this a change in policy? Are they going to put their "knowledge and experience" to meaningful use by exercising some due diligence? Is this a statement that means they have sorted the 1,100+ members in the Optimus Scheme that are most likely locked into "investments … not consistent with the Scheme's … Policy?" Or are these just more weasel words with no substance?
Reformed management team or a "bunch of cowboys"? The jury is still out. The association with Carey & STM doesn't appear to show a reformed team.  What has happened to the 1,100+ members in the previous Optimus Scheme? Has anything been done to remedy the situation?
I believed, and still do, that this team was unwittingly drawn into facilitating a scam by David Vilka of Square Mile, and that in essence Integrated Capabilities/Azure Pensions are a respectable team.  However, if they want to be seen as having learned from their past failings they could take some actions. First, help the 1,100+ members to avoid financial ruin and secondly assist in the prosecution of the architects of the scam facilitated by Integrated Capabilities.  I am sure they will have a considerable body of evidence that could be used to show fraudulent misrepresentation and thirdly drop the association with companies with an already poor reputation for their involvement with scams or unregulated collectives being promoted to retail clients.
With thanks to Steve – one of the Blackmore Global/David Vilka victims.