I have enormous respect for FT Adviser.  Their articles are written by proper journalists and they generally write competently and professionally.  FT Adviser puts International Adviser to shame with their thinly-disguised promotional shows and Micky Mouse "articles" which only ever promote their own sponsors – Old Mutual International and their ilk.
It was really interesting to read FT Adviser's recent "Top 100 Financial Advisers 2018".  I had, however, never heard of most of the advisory firms.  But that is hardly surprising because nobody ever comes to me and says "guess what, I've got a really good adviser and am making good returns on my investments".  And I presume that all the advisory firms listed by FT Adviser are full of happy clients who never need to complain about being scammed into unsuitable investments and losing money due to a combination of high, undisclosed charges and trading losses within insurance bonds (particularly OMI's).
However, and it is a big "however", there are a couple of firms on the list which should have had big red asterisks against them – largely because they discredit the rankings, the other firms on the list and FT Adviser's reputation.  These are Quilter PLC and Canaccord Genuity Group.
Canaccord Genuity Group is under investigation by the FCA for non-disclosure of investment charges.  Coming 24th in the top 100 list, it is very worrying that an advisory firm that lies about how much investments cost should have £990,000,000 worth of assets under management.  I wonder what the investment charges are on that little lot and how much non-disclosure of related charges has gone on.  Let us not forget that "non-disclosure" means lying – and with almost one billion under management that is very serious indeed.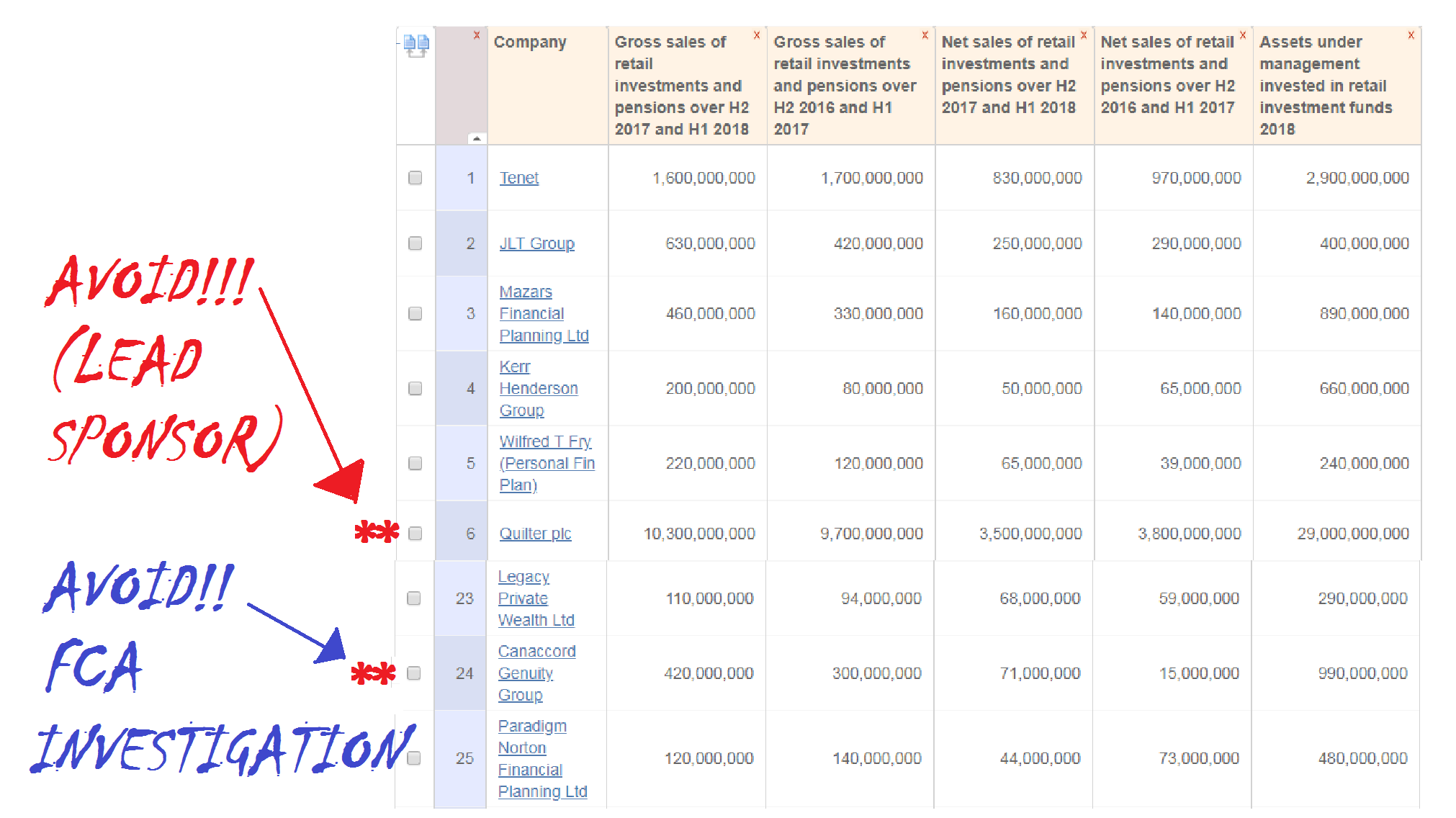 However, Canaccord Genuity Group's porky pies do pale into a degree of insignificance when compared to Quilter plc which came sixth with £10.3 billion worth of sales and £29 billion worth of assets under management.  Quilter plc is Old Mutual International, which is the life office which helped scam hundreds of victims out of their life savings.  So surely FT Adviser should have put a really bright double red asterisk against this firm on the league table?  (Or perhaps they didn't care, as Quilter was the lead sponsor?).
If Quilter is managing £29 billion worth of assets – presumably on behalf of thousands of investors – I wonder how much of this has been used to buy toxic, high-risk structured notes.  As Old Mutual International seems to be claiming there is nothing wrong with destroying millions of pounds' worth of clients' funds by making inappropriate investments, the same must be true of Quilter plc.
Old Mutual International was buying many millions of pounds' worth of structured notes provided by Commerzbank, Royal Bank of Canada, Nomura and Leonteq between 2010 and 2017.  OMI has disclosed that at least £94 million worth of the Leonteq notes were fraudulent, and is now suing Leonteq.
I have to confess, if I were a client of Quilter plc, I would be inclined to change advisers sharpish – although most certainly not to Canaccord Genuity.  Mind you, that still seems to leave 98 other firms worth considering.
But, despite the embarrassing inclusion of these two dud firms, congratulations to FT Adviser for the hard work which must have gone into producing this hit parade.  This is definitely one in the eye for the hopeless nitwits at International Adviser.