International Adviser really can't make up its mind whether it is organising a piss-up in a brewery, a news roundup carefully slewed in favour sponsors Old Mutual International, or a marketing machine.  I read with interest the recent  IA Industry Most Influential Top 100 described by IA thus: "we at International Adviser decided to shine a light on the movers and shakers that have helped this industry get to where it is today".
But where exactly is the industry today?  And have the so-called top 100 moved and shaken the industry in a helpful way or a detrimental way?  To find out, why don't we have a look at a few of the "influencers".  To get the measure of them, let's put them into a game of "Have I Got News For You":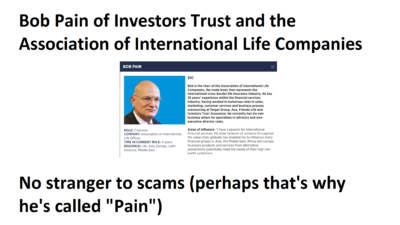 Bob Pain in the chair as quiz master.  A bloke who ran Cayman Islands-based Investors Trust until recently appointed chair of the Association of International Life Offices, the trade body for international life offices. During his 35 years of experience in financial services, he facilitated the scam run by Phillip Nunn of Blackmore Global and David Vilka of Square Mile International Financial Services.  Investors Trust accepted over 1,000 investments into illegal UCIS funds for UK-based victims scammed into QROPS with Integrated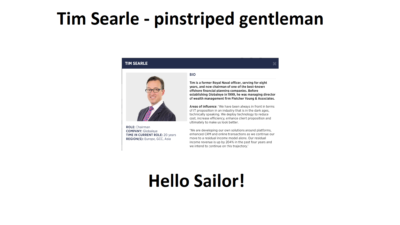 Capabilities and Harbour (now STM).
As Captain of the Navel Team, let's have dashing Tim Searle – Chairman of Dubai-based Globaleye.  With his eight-year Naval history, he should make an ideal leader and would come in particularly useful in the event of icebergs, torpedos or sharks.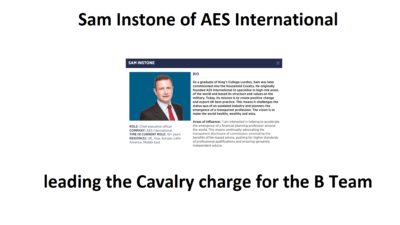 Captain of the Army Team I nominate as Sam Instone of AES International.  His experience as an Army officer should give him the leadership skills to oppose the Navel Team.  Sam's track record as the "enemy of traditional financial services" should give him the basis for a sound battle plan.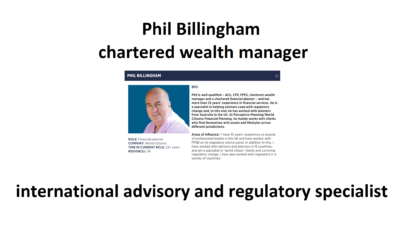 On the Army  Team, we'll have international wealth and regulatory specialist, Phil Billingham.  Phil must be utterly disgusted with the likes of Stephen Ward (another fully-qualified adviser) messing up the reputation of the profession by running a long series of pension scams and ruining thousands of lives.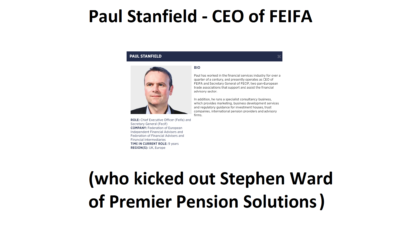 And the final member of the Army team will be Paul Stanfield, CEO of FEIFA (Federation of European Independent Financial Advisers).  Another real gentleman – and handsome to boot – and one who understands the importance of outlawing scammers.  Several years ago he excommunicated Stephen Ward of Premier Pension Solutions from FEIFA to loud cheers from victims and industry professionals alike.  (My only gripe with him would be that he still hasn't kicked out Square Mile Financial Services run by scammers John Ferguson and David Vilka).
On the Navel Team we'll have Geraint Davies of Montfort International – an expert IFA specialising in international financial services, and Roger Berry of Concept Group Trustees in Guernsey.  These two chaps also have, between them, extensive experience of Stephen Ward in their own ways and will, no doubt, have much to talk about.
The contest will be to spot the "odd one out": Michael Doherty of Woodbrook Group, Conor McCarthy of SEB, Peter Kenny of OMI and Winnie-the-Pooh.
Tim Searle: "They're all Irish, except Winnie-the-Pooh who's English?"
Geraint Davies: "They all hate Angie except Winnie-the-Pooh who's never heard of her?"
Roger Berry: "They all love Angie except Winnie-the-Pooh who's never heard of her?"
Sam Instone: "They've all got names that end in Y except Winnie-the-Pooh?"
Phil Billingham: "They're all involved in money except Winnie-the-Pooh who's involved in honey?"
Paul Stanfield: "None of them have applied to be members of FEIFA except Winnie-the-Pooh?"
Bob Pain: "No, you're all wrong.  The answer is Peter Kenny of OMI.  The other three have been doing "nothing": Michael Doherty was employing ex CWM scammers Dean Stogsdill and Neil Hathaway (known as Dog Kill and Hadaway) but claimed he was paying them nothing; Conor McCarthy of SEB has been asked numerous times for his comments on why SEB allowed the scammers at CWM to invest most of their victims' funds in toxic structured notes, but McCarthy is saying nothing and won't reply; and Winnie-the-Pool is doing nothing all the time.
The odd one out is Peter Kenny who is doing "something" and is suing Leonteq for the £94 million worth of fraudulent structured notes they sold to OMI.