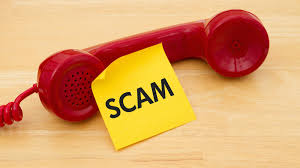 FT adviser published an article entitled, Cold calling ban approved by committee.  However, do not get too excited as it hasn't actually been approved by Parliament or got anywhere closer to being included in UK legislation.
Plans to ban cold calling were announced back in August 2017. Scammers love to cold call their victims and hard sell them their schemes.  But it seems the number of people being targeted by scammers has risen immensely despite campaigns by the FCA and tPR.
In our opinion, there should be a blanket ban on cold calling and it should have happened many years ago. There really is no debate necessary. Scammers use cold calling techniques to lure their victims in. If they were not allowed to do this, there would be a significant reduction in scams.
Just this week, I have had two scam emails sent to me. One supposedly from HSBC (with whom I don't bank!) and one supposedly from HMRC. The bank email told me I needed to log into my internet banking via their link and add my card details. The HMRC one promised me a tax rebate if I followed their link and input my credit card details!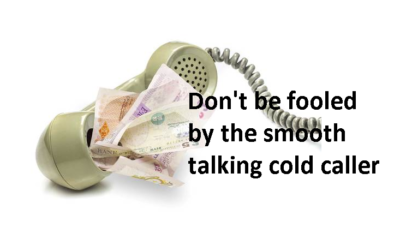 To my relatively informed eye, it was obvious these were scam emails, but the offer of money back from HMRC did have a certain compelling lure to it. Several hundred pounds just before Christmas, yes please! However, I haven't completed my tax return yet and very much doubt HMRC owe me anything. With tempting offers like this, it is easy to see how people can be lulled into a false sense of security, especially by a smooth talking salesman.
In so many scams, we hear the same thing; "I was called by a lovely man and he told me he could make my pension value increase if I transferred into…..but now my pension pot is worth less – much less." The sad truth is that invariably the salesman is based offshore, is completely unqualified and only interested in the high commissions he will get from selling you a thoroughly inappropriate investment.  He will probably sell you a useless life bond too. Both of which will take a huge chunk of your pot before it has actually been invested anywhere.
The government has apologised for missing their deadline on passing this law, but I guess with all this Brexit chaos they are somewhat distracted. Given that they are unable to make a decision or deal on Brixit, I would guess they might struggle with passing a law that would protect their hardworking, tax-paying citizens.
I would also like to suggest that passing the ban might not be quite in the British government's best interest. Often victims who have been scammed, have also liberated a cash amount out of their pension and this is taxable. 55% taxable to be precise. Therefore, by allowing the scams to go on, HMRC can coin in more tax revenues.
So, as we cannot count on our government to protect us from the cold calling scams, Pension Life is here to help.
Cold called? HANG UP!!!!
You don't have to say anything, but if you do, make sure it's something along the lines of:
"Buzz off."
In a perfect world, we would also like to see an international ban on the following:
AND, WE'D LIKE TO SEE LIFE OFFICES AND ADVISORY FIRMS COMPENSATING VICTIMS OF MIS-SELLING, NEGLIGENCE, AND FRAUD.